I know, I know. You have been looking at photos of a can of flour for the past couple of weeks. And you're probably thinking that I am lying on the couch, spooning Nutella, watching The Golden Girls and baking nothing. You're wrong, my friend. Actually, I have been cooking A LOT lately. Not only that, but also took 2000+ food shots for the most exciting project yet. And no, it is not a book. All I needed was 5-6 golden shots. My dear friends opened their secret cabinets and let me borrow their gorgeous vintage bowls and Ottoman silverware and all the possible combinations made me dizzy. Also, you will not believe whom I cooked for. No, not Her Majesty. She's way younger and much cuter. And she is the queen of another kingdom – the culinary one. No, not Martha. She's way more talented and much cuter (sorry Martha, I can no longer hide my jealousy of your prop room).
The bad news is I really can't give anymore details… Just hang on a few more weeks and you'll read all about it (Update: The secret is out. Here's the piece Janet Fletcher wrote about my San Francisco-inspired Turkish menu for The San Francisco Chronicle). So, before I can tell you more about this project, here's a recipe I came up with for a friend.
This friend of mine practically lives in his car. He also suffers from hypoglycemia, which results in dizziness if he doesn't eat small portions of food every two hours. We used to laugh whenever we hear him say "Oh, my blood sugar is low, I need to eat again" and thought that it was just an excuse. But recent tests show that he was in fact right. He usually grabs the first thing he can find and most of the time it's a package of cookies loaded with trans fats and other nasty ingredients. I wanted to come up with something filling and nutritious that he can stash in his car and grab one whenever he needs to satisfy his immediate hunger.
The starting point for the recipe is the granola I baked last month. I took out the fruit puree, replaced brown sugar with honey and played with the rest of the ingredients to make it hold together better. I also included dried blueberries, which is his favorite dried fruit, and packed them individually for portion control.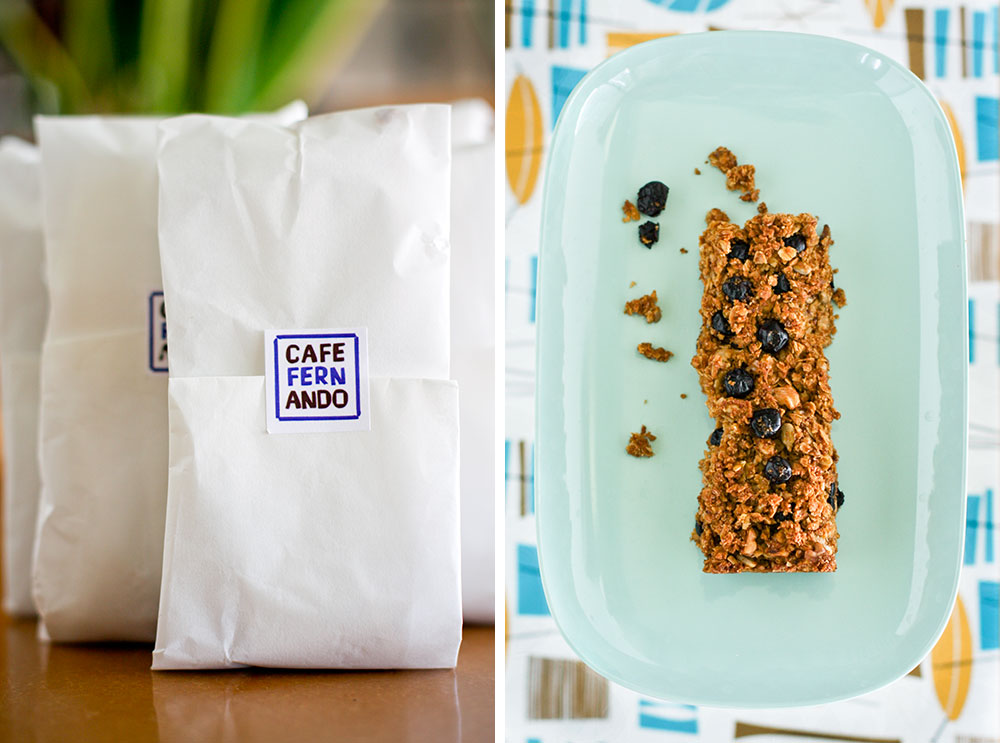 The ingredient list and amounts may look shocking, but if my measurements are correct, each bar is around 300 calories. Considering how filling these bars are, I am thinking it's not that bad.
BLUEBERRY GRANOLA BARS RECIPE
Ingredients
Yields 16 bars

Dry ingredients

4 cups rolled oats
2 cups wheat bran
1+1/2 cups dried blueberries
1 cup walnut halves
2/3 cup hulled raw sunflower seeds
1/2 cup unsweetened coconut flakes

Wet ingredients

4 tbsp butter, melted
1/3 cup grape molasses
1 cup honey
Method
Preheat your oven to 300F.
Line a 10*14 inch rectangular cake pan with parchment paper and set aside.
Chop the walnuts coarsely and combine with the rest of the dry ingredients. Stir to mix well.
In a small bowl, combine all of the wet ingredients. Stir to mix well.
Pour the wet ingredients over the dry ones, and mix until completely blended.
Spread the mixture evenly on the pan.
Bake for 30 minutes, remove from the oven, score with a knife into 16 equal pieces and return to the oven (makes the actual cutting easier later on).
Bake for 15 more minutes and let cool to room temperature.
When cooled, cut them into 16 equal pieces, pack them individually and store in an airtight container.
Will keep fresh for 2 weeks under room temperature or up to a couple of months in your refrigerator.