I baked this tart while on vacation at The White Mansion. This is a remake tough. I thought of adding almonds and maple syrup on top after I tasted it.
I prefer not to bake the peaches with the tart dough, especially since they are in season and full of sweet juices. You don't want that juice to evaporate, right? But with only the fruit on top, the tart looks naked. Just a drizzle of maple syrup and a handful of raw almonds make all the difference.
For perfect slices of peaches, instead of peeling with a knife, blanch them in plain boiling water for 5-10 minutes.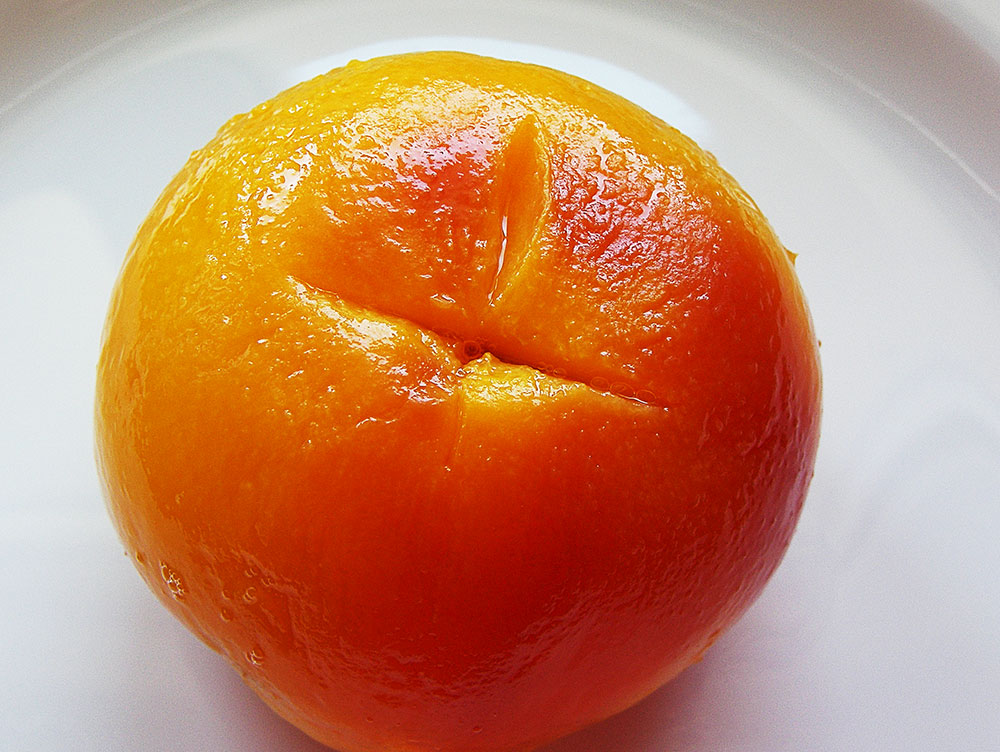 This way, you will not only easily remove the skin, but also have uniform-looking slices on top of your tart.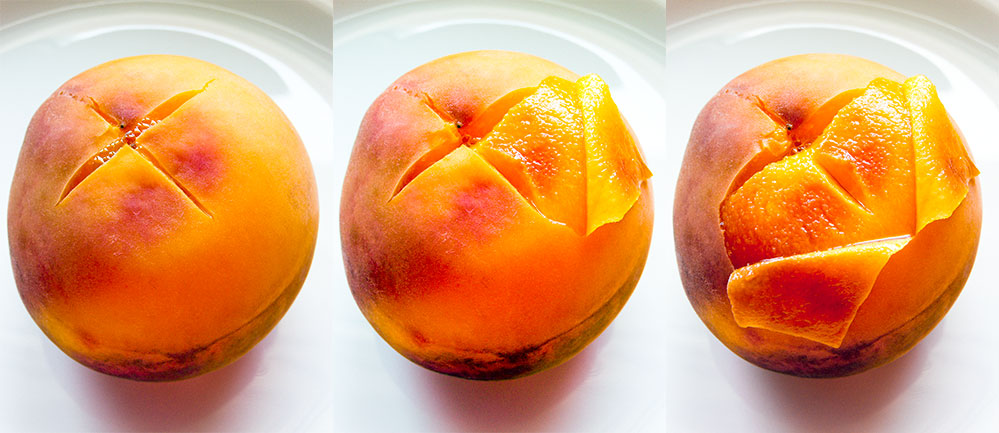 Cut a small cross in the bottom of each peach, place them in a small pot and pour a cup of boiling water on top and simmer for 5-10 minutes, covered. Transfer them immediately into a bowl of cold water and ice. When cooled down, peel the skin, remove the stone and start slicing.
PEACH TART WITH ALMONDS AND MAPLE SYRUP
Ingredients
Tart Dough and Pastry Cream recipes adapted from Dorie Greenspan's book "Baking: From My Home to Yours".
Sweet Tart Dough:
1+1/2 cups all-purpose flour
1/2 cup confectioners' sugar
1/4 tsp salt
1 stick plus 1 tbsp (9 tbsp) unsalted butter, chilled and cubed
1 large egg yolk
Pastry Cream:
2 cups whole milk
6 large egg yolks
1/2 cup sugar
1/3 cup cornstarch, sifted
1 1/2 tsp pure vanilla extract
3 1/2 tbsp unsalted butter, cut into bits at room temperature
Assembly:
3 large peaches
1 cup boiling water
1/3 cup almonds, roughly chopped
3 tbsp maple syrup
Method
To prepare the sweet tart dough, preheat the oven to 375 F (190C) degrees.
Pulse flour, sugar and salt in a food processor. Add butter and pulse until it resembles a coarse meal. Stir in the yolk and pulse again until the dough forms clumps and curds.
Turn the dough out onto a work surface and very lightly and sparingly, knead just to incorporate dry ingredients.
Butter a 9-inch fluted tart pan with a removable bottom. Press the dough evenly over the bottom and up the sides of the pan. Freeze crust at least 30 minutes before baking.
Bake blind for 25 minutes, remove the weight and bake for another 10 minutes. Let cool.
To prepare the pastry cream, bring the milk to a boil in a small saucepan.
In a heavy-bottomed saucepan, whisk the yolks together with the sugar and cornstarch until thick and well blended. Still whisking, drizzle in about 1/4 cup of the hot milk. Whisking all the while, slowly pour in the remainder of the milk.
Put the pan over medium heat and, whisking vigorously, constantly and thoroughly bring the mixture to a boil. Keep at a boil, still whisking, for 1 to 2 minutes, then remove the pan from the heat.
Whisk in the vanilla extract. Let sit for 5 minutes, then whisk in the bits of butter, stirring until they are fully incorporated and the pastry cream is smooth and silky.
Scrape the cream into a bowl. Press a piece of plastic wrap against the surface of the cream to create an airtight seal and refrigerate until cold or, if you want to cool it quickly put the bowl into a larger bowl filled with ice cubes and cold water and stir the pastry cream occasionally until it is thoroughly chilled, about 20 minutes. The pastry cream can be kept, tightly covered, in the refrigerator for up to 3 days.
To assemble the tart, cut a small cross in the bottom of each peach with a knife. Place them on a small pot and pour 1 cup of boiling water on top.
Simmer for 10 minutes and transfer to a large bowl filled with cold water and ice to stop the cooking process.
Peel off the skin, remove the stones and slice peaches.
Fill your tart shell with the pastry cream.
Lay peach slices, overlapping each other. Sprinkle raw almonds and drizzle the maple syrup.