This cake was inspired by so many things, I don't know where to start.
Actually, I do. Paris. Denise Acabo's shop, A l'Etoile d'Or. Mr Genin's caramels lined up on the white marble counter top. Mango and passion fruit caramels, to be specific.
New Year's Eve dinner party at my friends' house has been a tradition for over 10 years and I've been baking cakes for the occasion for the last three. Come December, I start thinking about the tastes that inspired me the most that year. This year, it was first the mango and passion fruit caramels at A l'Etoile d'Or and then the Mogador macaron at Pierre Herme.
Another inspiration for this cake is the "Baking with Julia" DVD. The episode where Julia and Alice Medrich bakes the chocolate raspberry ruffle cake, to be exact.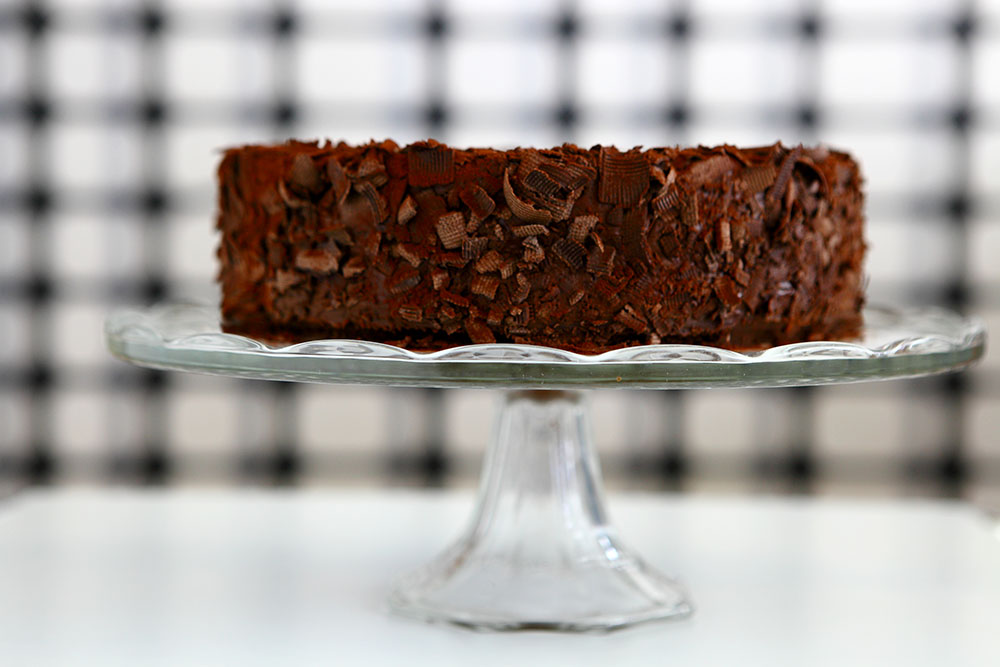 Watching Alice bake that cake and prepare those chocolate ruffles is truly an inspiration. I baked the cake layers according to her chocolate genoise cake recipe and spread rich chocolate ganache layers and a surprise mango passion fruit curd layer in between.
It was like eating a Mogador macaron, but richer and definitely more chocolaty.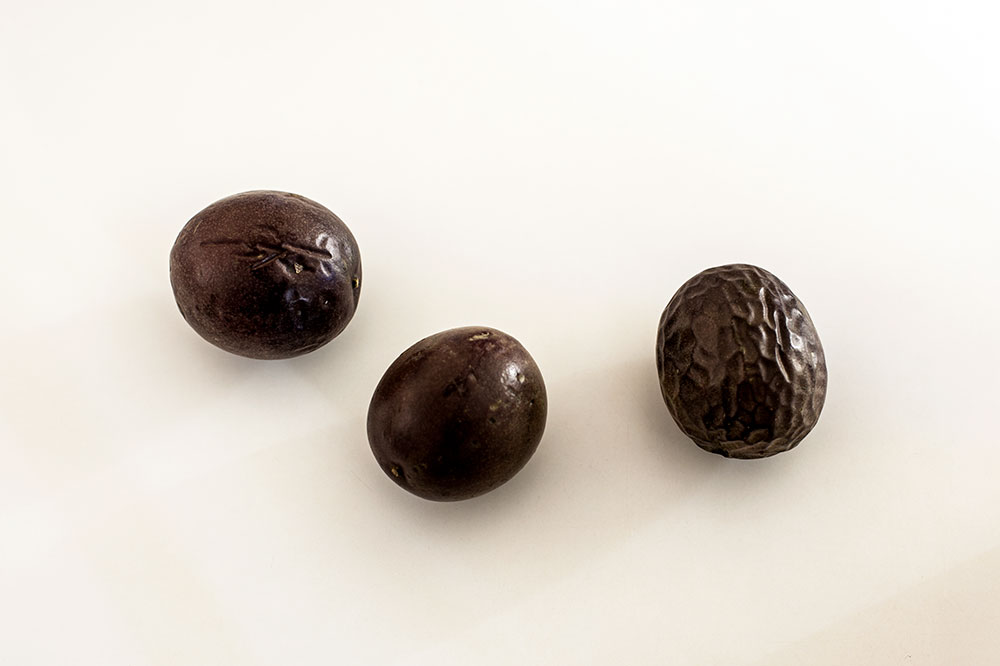 Above is a photo of a passion fruit in different stages of ripening. The one in the middle is how it looks on the day I bought, the one on the left a few days later and the one on the right after a week of sitting on my kitchen table, perfectly ripened.
And this is how they look once you cut them in half.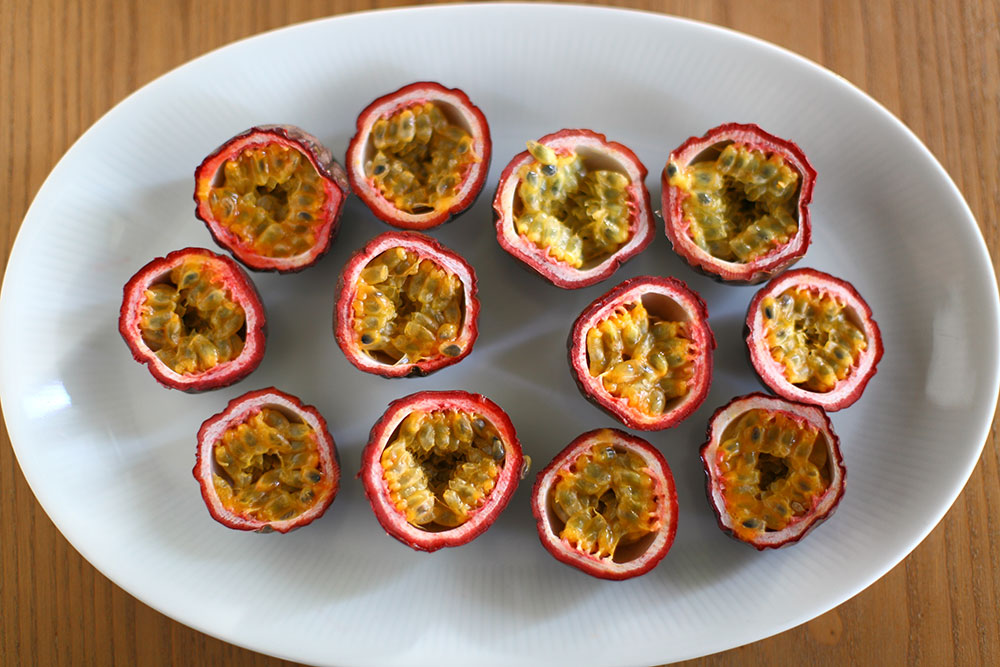 The passion fruit curd recipe I've found at Rose Levy Beranbaum's new book "Rose's Heavenly Cakes" is a winner. Rich, smooth and a high concentration of passion fruit flavor. I had trouble with the consistency at first (too thin), but took care of it with a couple tablespoons of cornstarch.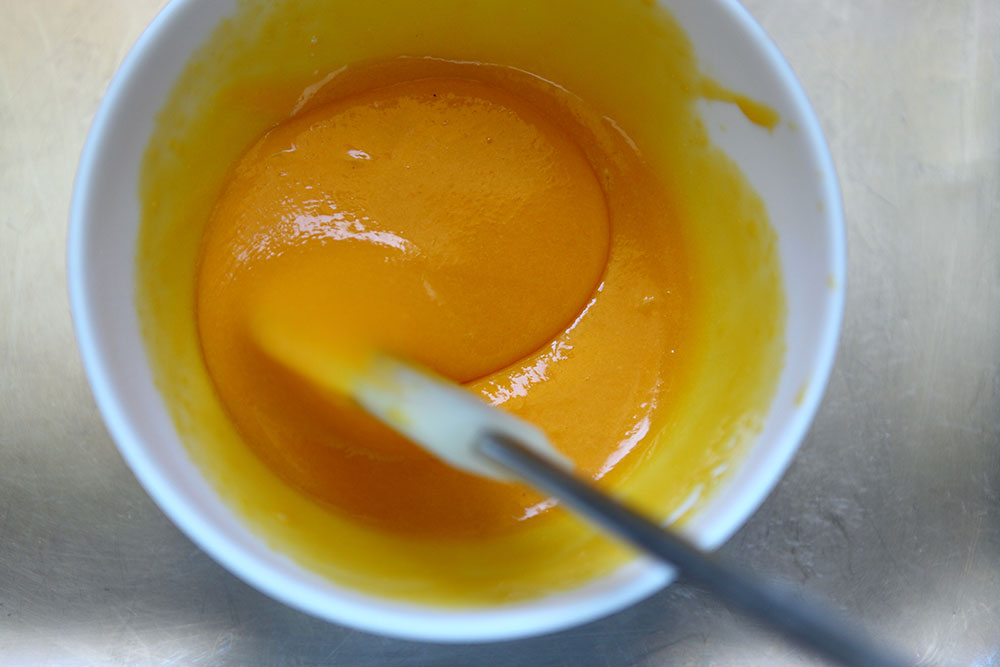 And here it is: Alice Medrich's chocolate genoise cake, cut into three layers.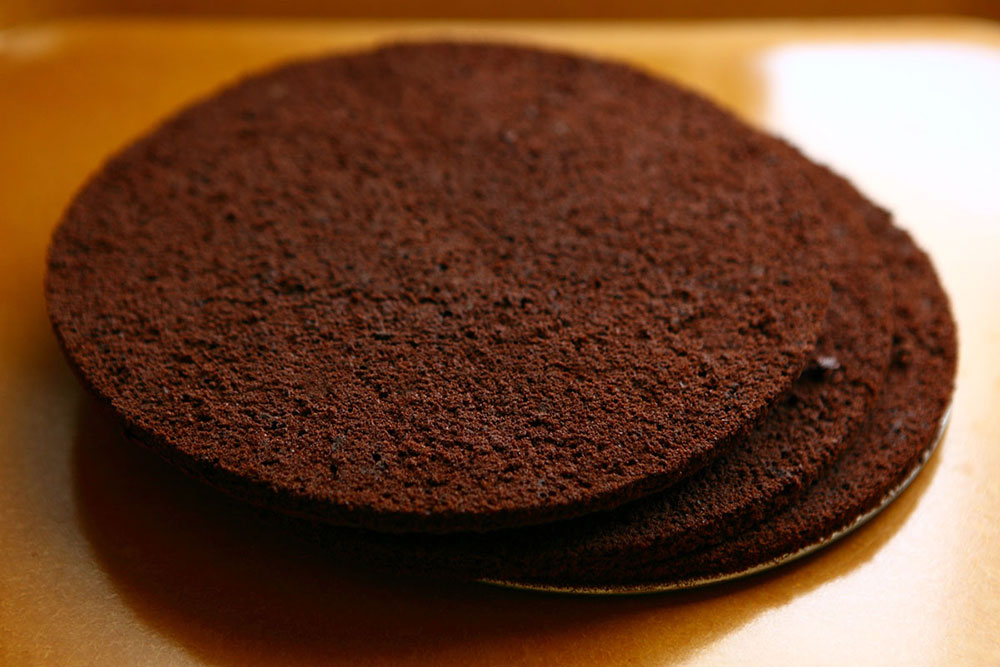 In case you haven't worked with clarified butter before, which is called for in the recipe, here's how to make clarified butter:
Clarified butter is unsalted butter that has the milk solids and water removed so all that remains is pure liquid golden-yellow butterfat.  The advantages of this type of butter is its long keeping quality (several months refrigerated) and its high smoke point (can be used in frying without burning).  In this recipe, we want it for its distinctive fragrant nutty flavor.
Gently melt unsalted butter over low heat until the butter breaks down. The water in the butter will evaporate, the milk solids will sink to the bottom of the pan and froth will rise to the top. The top layer, which is a white foam or froth (the whey proteins) should be skimmed off.  This is usually done with a spoon, but I find that a fine-meshed strainer works best. If you don't have a fine-meshed strainer, you might also use a double layer of rinsed and squeezed cheesecloth over a regular strainer.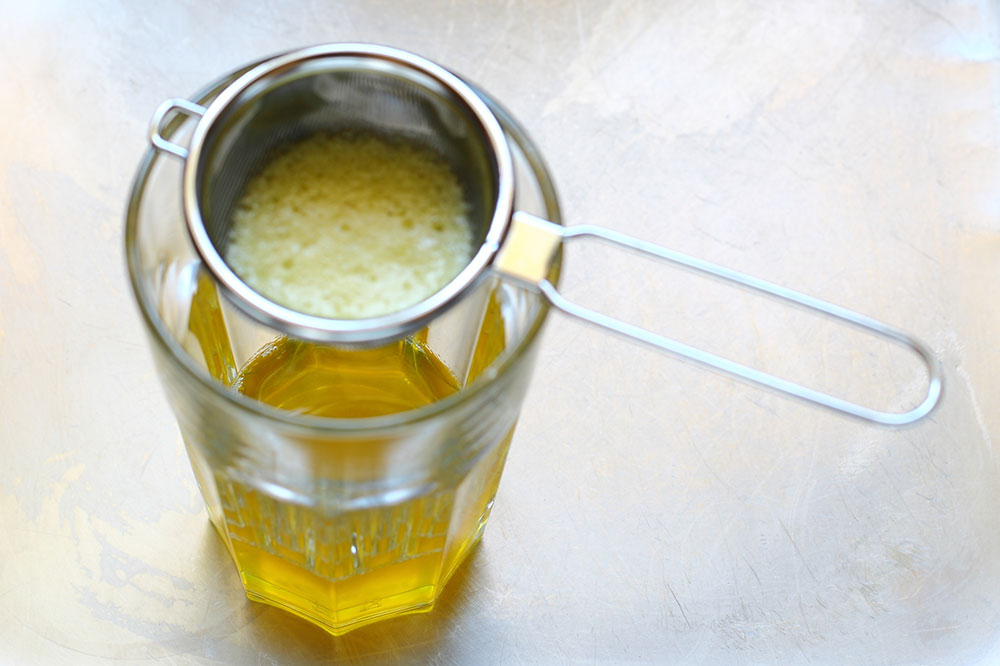 I couldn't help but add a pinch of cinnamon to the chocolate ganache. When you taste it, you don't go "Hmm, cinnamon", but it's there.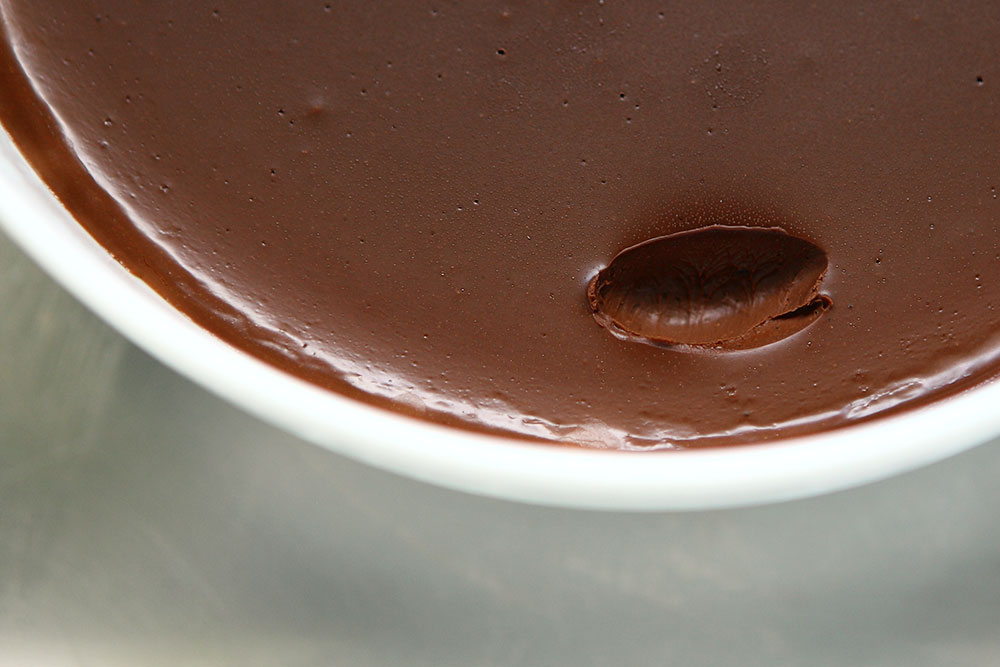 I also have to mention these Tahitian vanilla pods I bought from Mariage Frères in Paris. The plumpest, moistest, most fragrant vanilla pods  ever.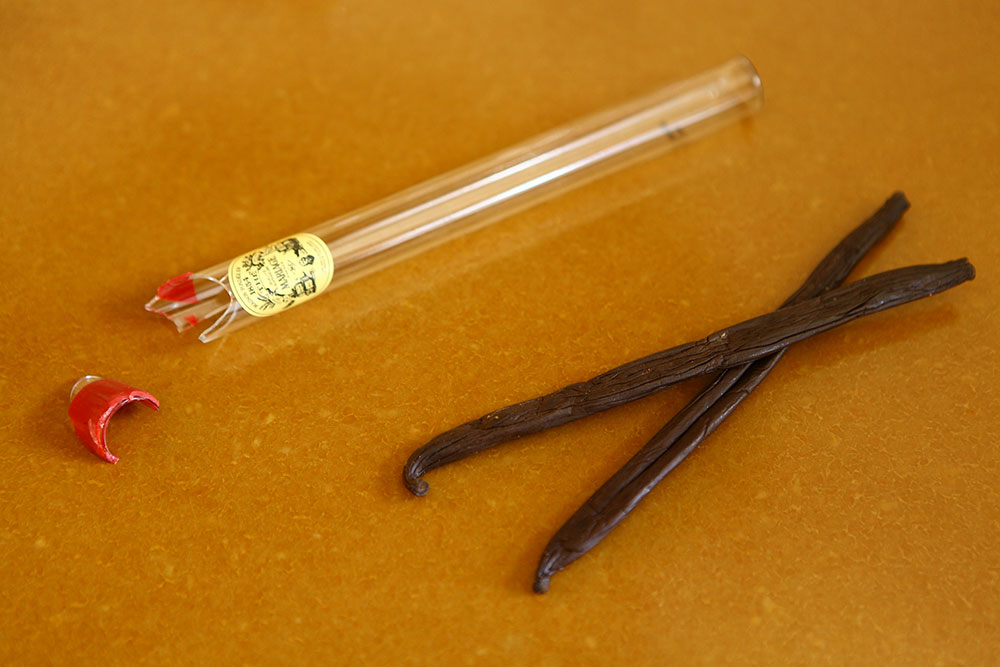 You scrape half of a Tahitian vanilla bean, mix it with sugar and mango puree, and this is how it looks after cooking them together for a few minutes.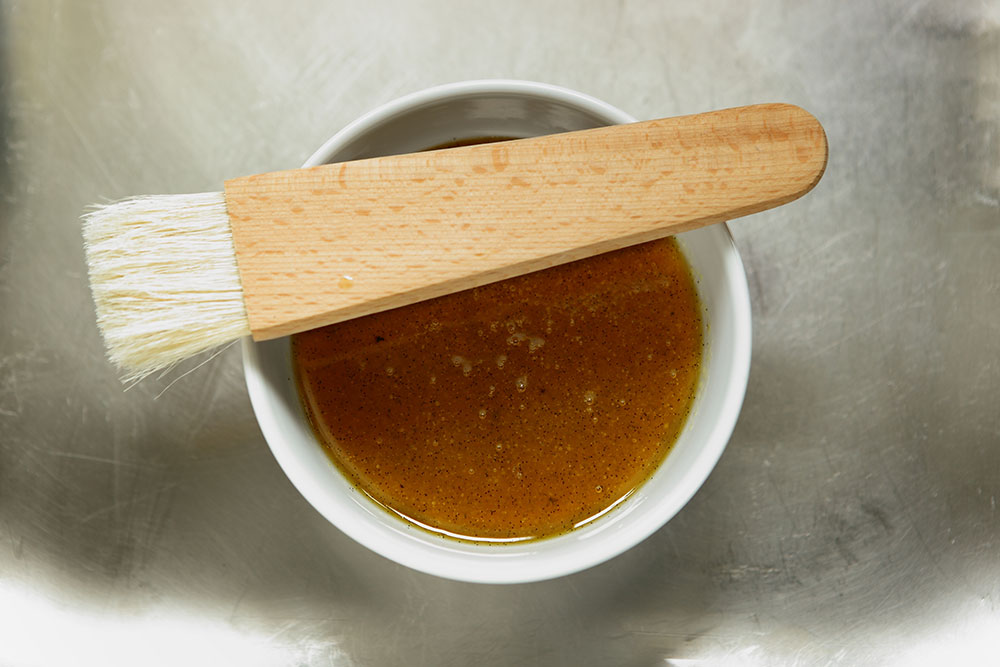 Below are step-by-step pictures of the assembly of the cake. Hope you enjoy.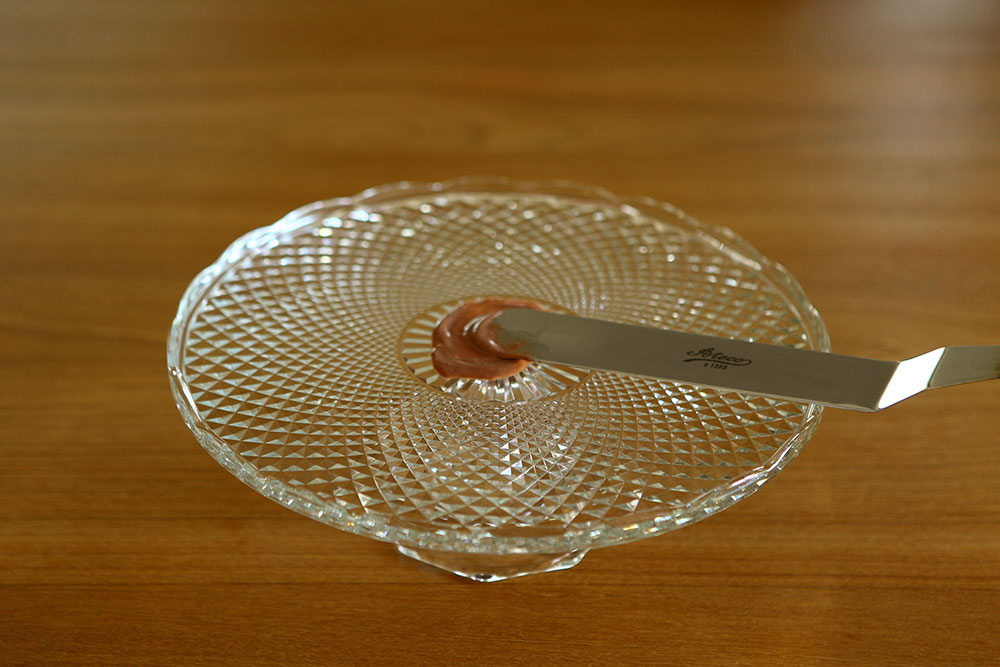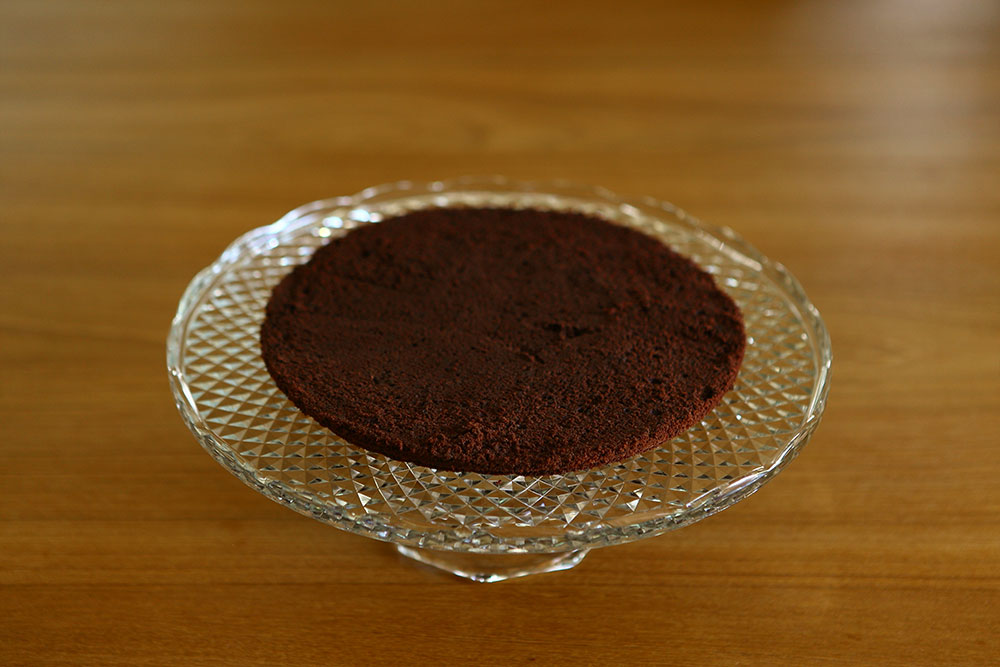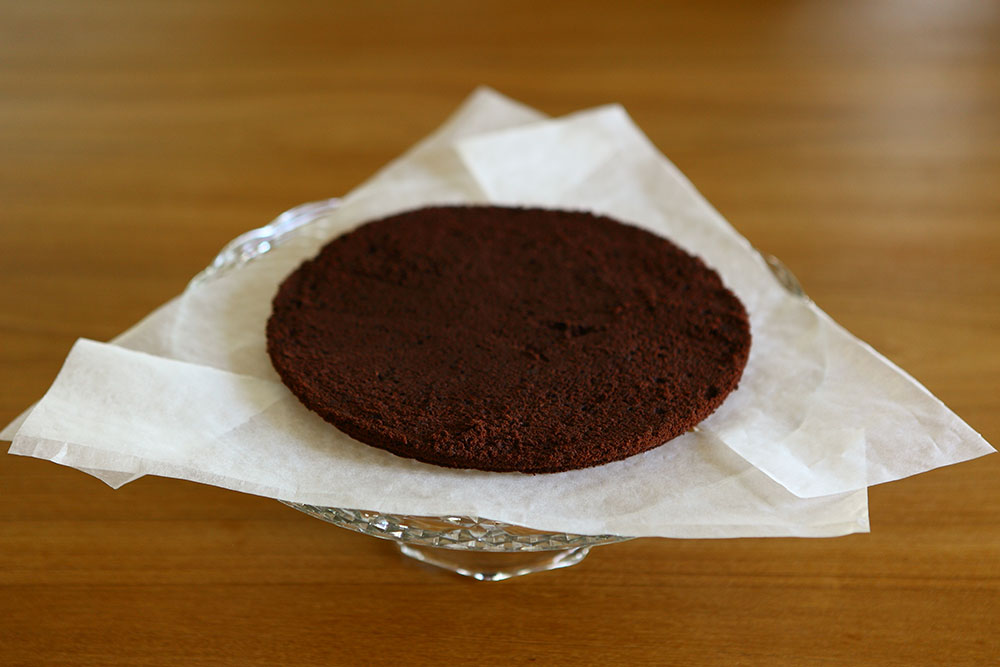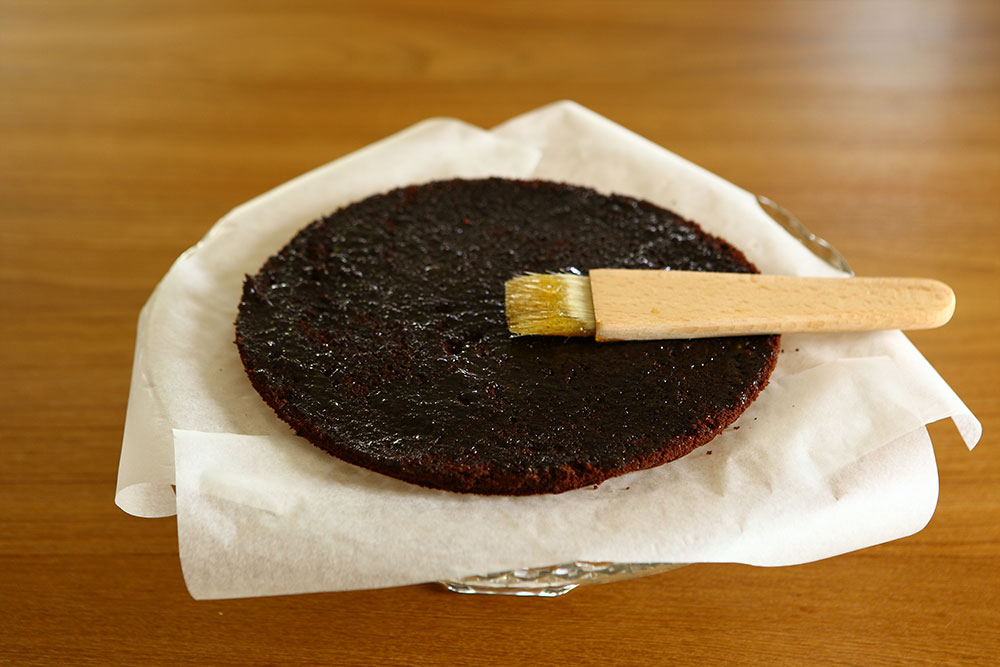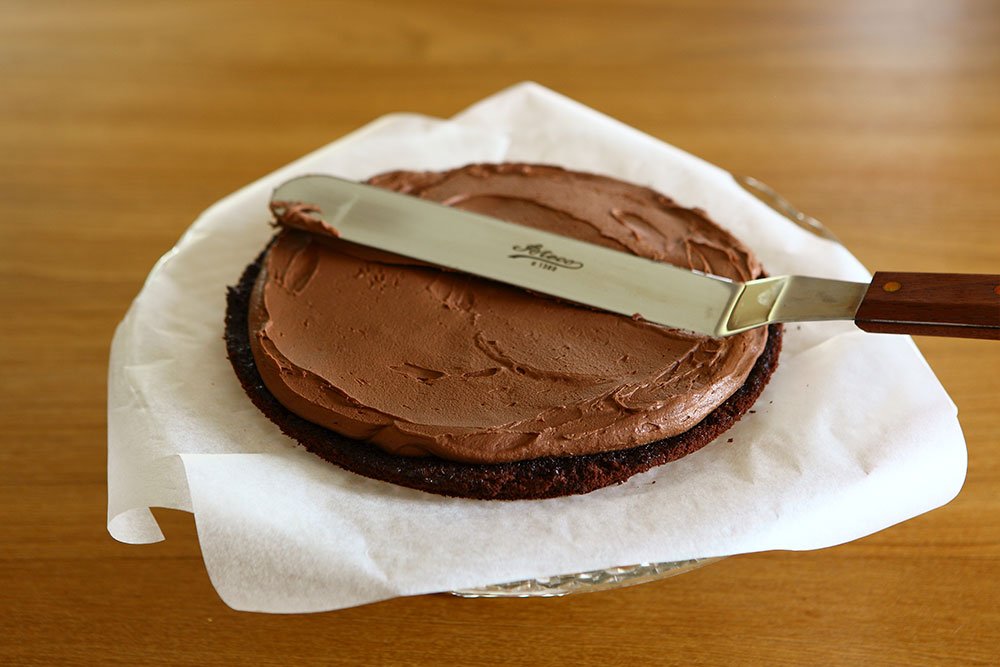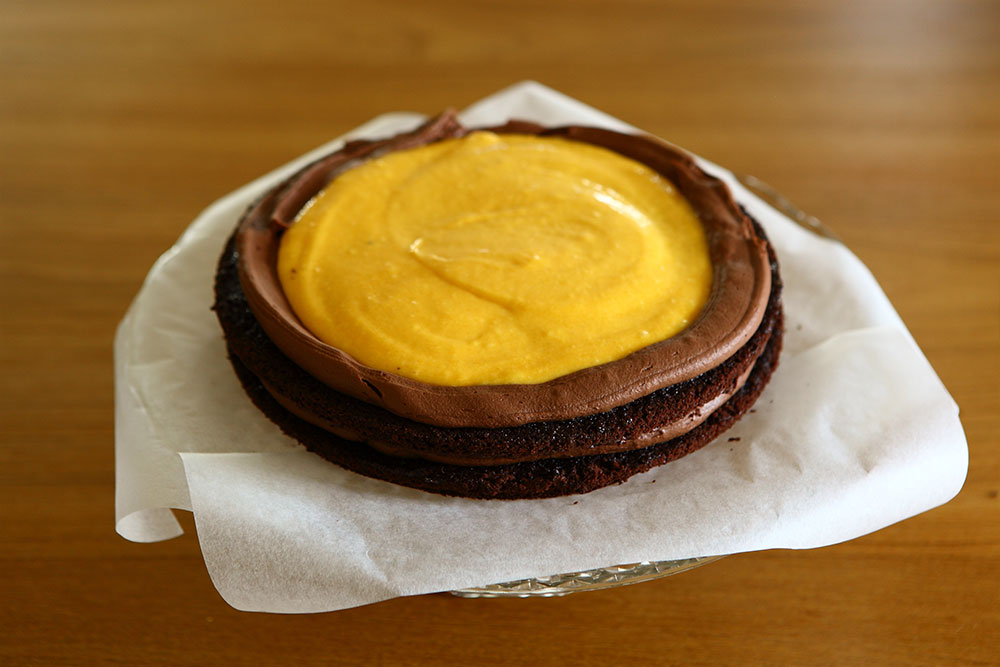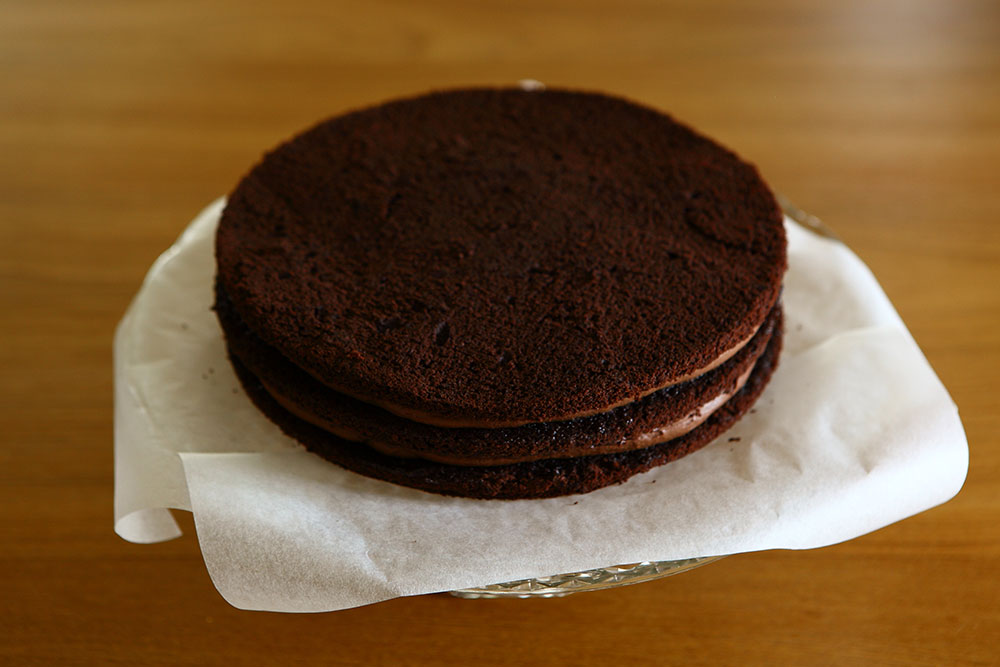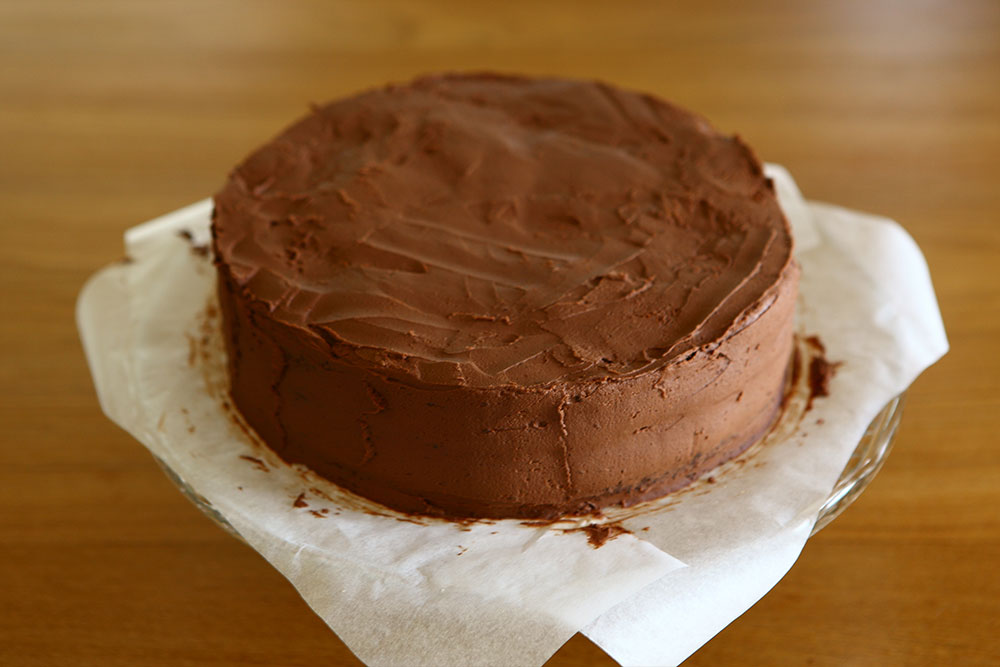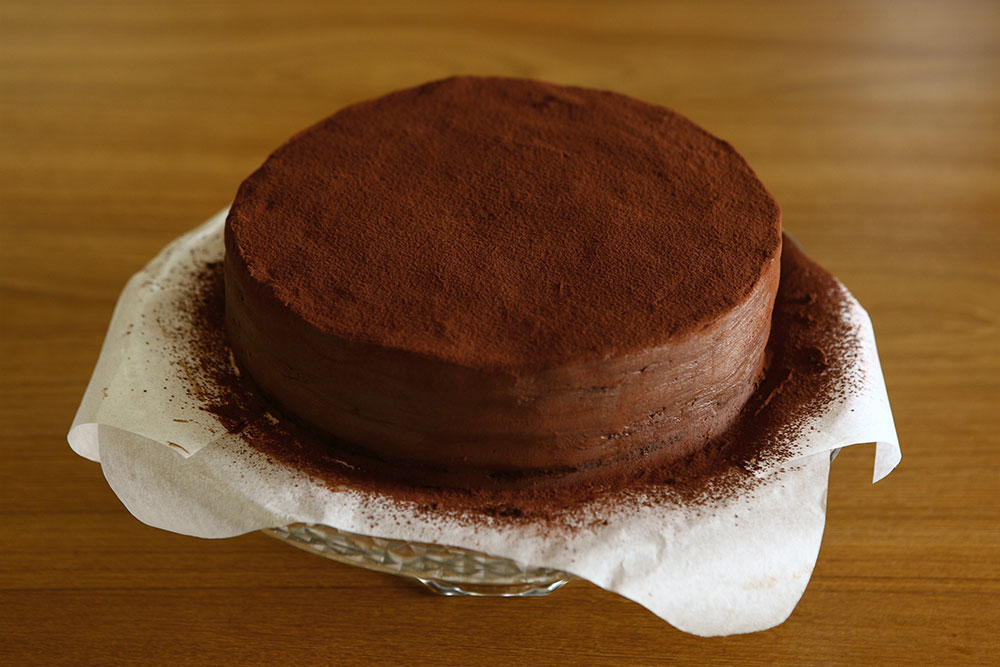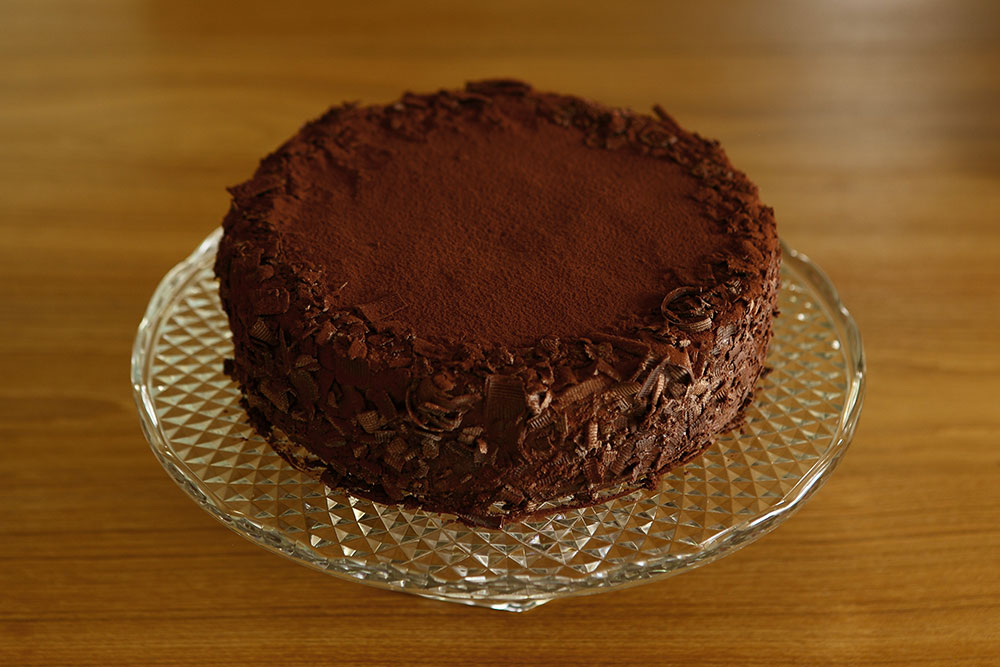 CHOCOLATE GENOISE CAKE RECIPE

Recipe adapted from Baking with Julia by Dorie Greenspan.
Ingredients
2/3 cup all-purpose flour, sifted
2/3 cup Dutch-processed cocoa powder, sifted
1+1/2 tsp vanilla extract
4+1/2 tbsp hot clarified unsalted butter
6 large eggs
1 cup sugar
Method
Preheat your oven to 350F.
Fit the bottom of a 9-inch round cake pan, one at least 2 inches high, with parchment paper and set aside.
Sift the flour and cocoa together three more times and set the sifter on a plate and return the dry ingredients to the sifter. Keep at close hand.
Whisk eggs and sugar together in the bowl of a heavy-duty mixer. Set the bowl over direct heat or in a pan of barely simmering water and heat the eggs, whisking constantly, until they are warm to the touch. Working with a heavy-duty mixer fitted with the whisk attachment beat the eggs at high speed until they are cool, have tripled in volume and hold a ribbon when the whisk is lifted.
Sift one third of the dry ingredients over the eggs and fold in gently.
Fold in the rest of the flour-coca mixture.
Mix hot clarified butter and vanilla extract in a bowl, spoon about 1 cup of the batter into the mixture and fold together until well blended. Spoon this over the batter and gently fold it in.
Spoon the batter into the cake pan and bake for 25 to 30 minutes, or until the top of the cake springs back when pressed gently.
Transfer to a rack and let cool. You can keep the cake (wrapped well)  in the refrigerator for up to 2 days or frozen for up to 3 months. Thaw, still wrapped, at room temperature.
PASSION FRUIT AND MANGO CURD RECIPE
Recipe adapted from Rose's Heavenly Cakes by Rose Levy Beranbaum.
Ingredients
3 egg yolks
1/2 cup sugar
3 tbsp butter, at room temperature
1/4 cup passion fruit puree
1/4 cup mango puree
3 tbsp cornstarch
Method
In a heavy saucepan, whisk the yolks, sugar and butter until well blended.
Whisk in the passion fruit puree and cornstarch. Cook over medium low heat, stirring constantly with a silicone spatula until thickened and resembling hollandaise sauce, which thickly coats the spatula but is still liquid enough to pour. Warning: Do not let the mixture boil. Whenever steam appers, briefly remove the pan from the heat, stirring constantly to keep the mixturre from boiling.
Pour the mixture into a strainer and press it through with the spatula.
Stir in the mango puree and allow the curd to cool for 30 minutes.
Cover tightly and refrigerate for about 3 hours. It will keep for 3 weeks.
MANGO SYRUP

Recipe adapted from Rose's Heavenly Cakes by Rose Levy Beranbaum.
Ingredients
1/2 Tahitian vanilla bean (or 1 Madagascar vanilla bean)
3/4 cup sugar
1/2 cup + 2 tbsp mango puree
Method
With a small sharp knife, split the vanilla bean lengthwise in half.
Place sugar in a small saucepan. Scrape the vanilla beans into the sugar and rub them in with your fingers. Add the vanilla pod to the pan.
Stir in 1/2 cup of the mango puree until all the sugar is moistened.
Bring mixture to a rolling boil, cover and remove from heat.
Transfer it to a measuring cup, stir in the remaining 2 tbsp of the mango puree and let cool completely.
Remove vanilla pod just before applying the syrup.
CHOCOLATE GANACHE
Ingredients
12 oz bittersweet chocolate (%70)
2+1/4 cups heavy cream
1/2 tsp cinnamon
Method
Place chocolate and cinnamon in a large mixing bowl.
Bring the heavy cream to a boil and pour over the chocolate.
Let stand for a minute and then stir with a spatula until the chocolate completely melts.
Let cool at room temperature, cover and transfer to the refrigerator to thicken.
Let stand at room temperature for an hour before applying.