In order to keep up with my busy schedule these days, I pick a day a week and spend half of it prepping food for the rest of the week. I have a supply of homemade tomato sauce in the freezer that can feed an army, so I take a freezer-bag of tomato sauce, a bag of tomato puree – and pesto while I'm at it – and transfer them to the refrigerator to thaw. I use the tomato sauce (which only has garlic, olive oil, salt and a dash of vinegar) for pasta dishes and the occasional casserole. If I'm craving soup, I use the tomato puree for this Roasted Tomato Soup. If not, I use it in multiple dishes – most recently this Egg in a Cup dish. The pesto goes a long way, too. I use it for a quick pasta, Caprese salad, or use as a topping whenever I order Pizza Margherita.
Next, I wash a mountain of greens, wrap them in wet paper towels and put them in zip top bags so they keep fresh and crisp for the remainder of the week. The freezer is full of cookies from trials for the book and I'm constantly baking, so no worries on the dessert front.
I also bake a bread. Last week it was this Oatmeal Sandwich Bread from "Good to the Grain" by Kim Boyce. I had been meaning to experiment with different flours for the longest time and this book seemed like the ideal starting point.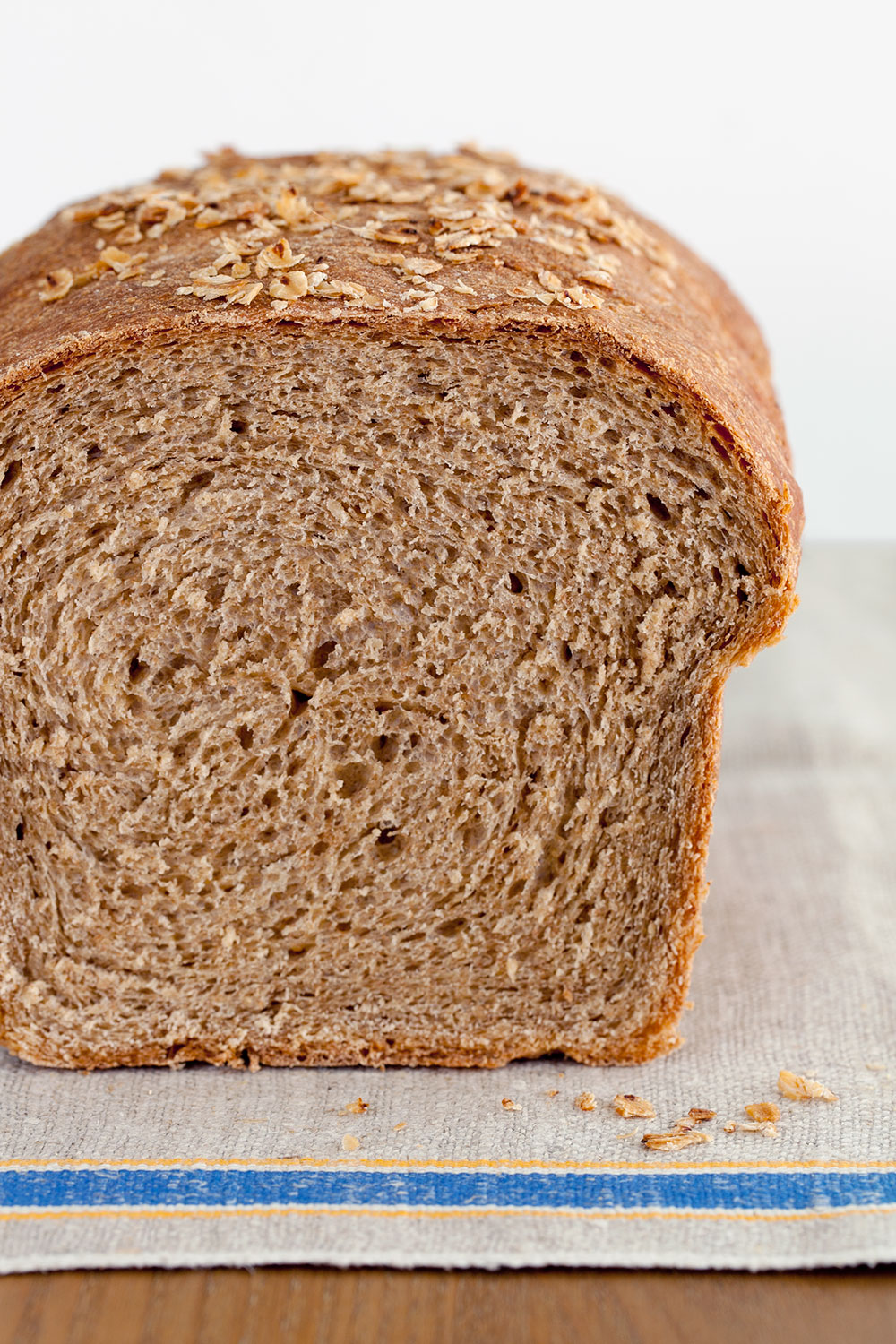 Most of the grains in the book are strangers to me and impossible to find here in Istanbul, so starting with oatmeal was a logical step.
Oatmeal is one of my favorite grains (take a look at my Granola, Hazelnut Butter, Chocolate and Oatmeal Cookies, and Blueberry Granola Bars recipes), but I have never used it in making bread. Glad I finally got around to it. The crumb of this bread is fine and tender and overall it is pretty moist – perfect to have on hand for toast.
This oatmeal sandwich bread will keep fresh for about 3 days. And if you're wondering what to do after that, here are a few ideas:
WHAT TO DO WITH STALE BREAD
Croutons: Cut two slices into cubes, toss them with pureed garlic and olive oil, fry them briefly and use them in my all-time-favorite Chicken Caesar Salad recipe.
Chocolate Toast: Two tablespoons of peanut butter, four thick slices of banana and two ounces of bittersweet chocolate after, here's what you'll get: Peanut Butter, Banana and Chocolate Toast.
Egg in a Cup: Substitute pastirma (or bacon) in this Egg in a Cup recipe. It would be a good idea to flatten thin slices with a rolling pin, so you can shape the slices in the muffin pan much easier.
Homemade breadcrumbs: Throw the remaining bread in a food processor and pulse until you have breadcrumbs. Store in the refrigerator in an airtight container for up to 10 days.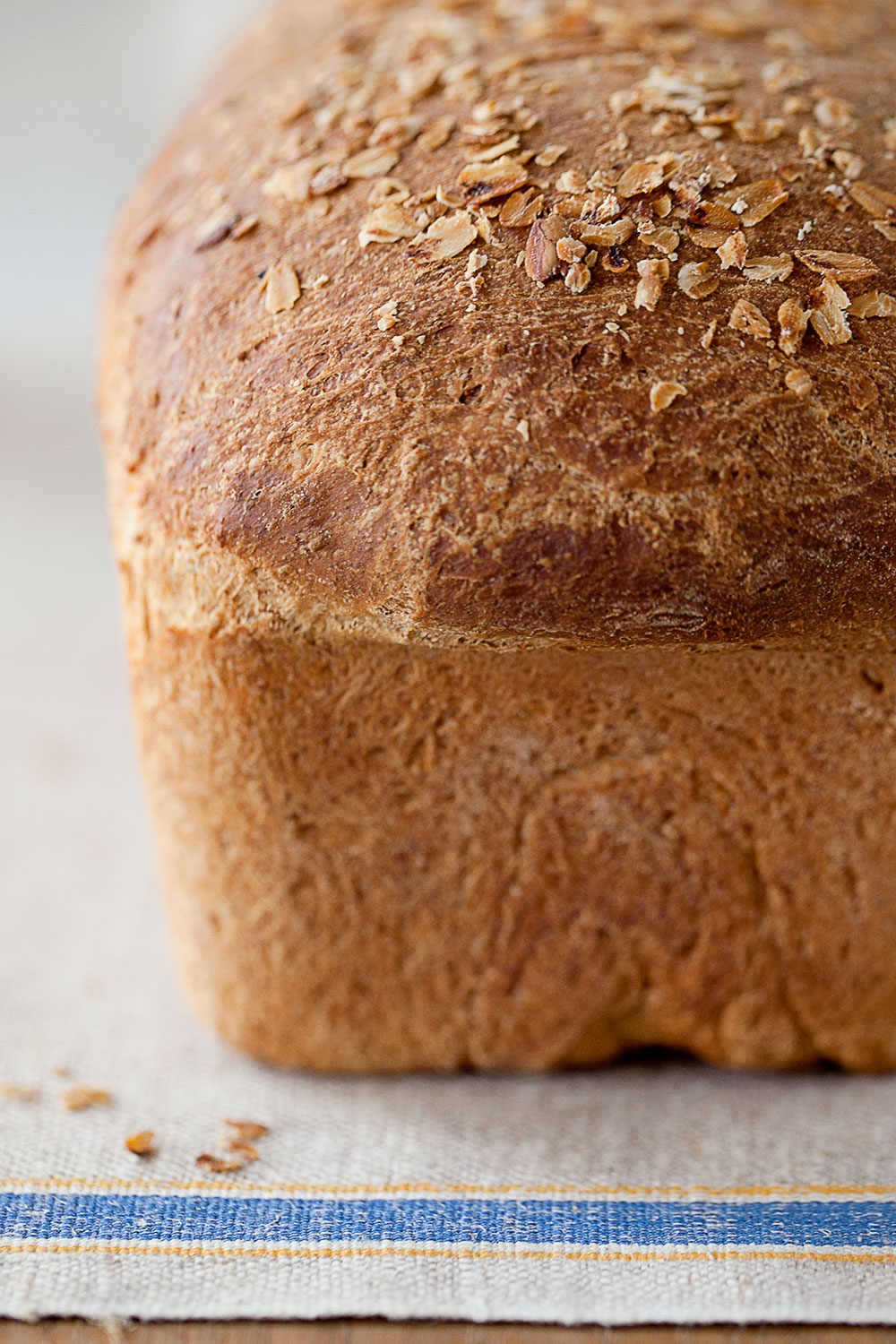 Hope you enjoy.
OATMEAL SANDWICH BREAD RECIPE
adapted from "Good to the Grain" by Kim Boyce.
Ingredients

2 cups warm water
2+1/4 tsp active dry yeast
3 tbsp unsulphured (not blackstrap) molasses
2+1/2 cups whole wheat flour
2 cups bread flour (or all-purpose flour)
1 cup rolled oats
4 tbsp unsalted butter, melted and cooled slightly
1 tbsp kosher salt
Method
Lightly butter a large bowl and a 9*5 inches loaf pan and set aside.
In the bowl of a stand mixer, stir water, yeast and molasses to combine. Allow the yeast to bloom for about 5 minutes, or until it begins to bubble. Add the flours, rolled oats and melted butter. Stir with a wooden spoon to combine, cover with a towel and let stand for 30 minutes.
Add salt to the dough, attach the bread hook to the mixer and mix on medium speed for 6 minutes, until the dough no longer sticks to the sides (add a tablespoon or two of flour if necessary).
For the first rise, scrape the dough onto a lightly floured work surface and knead it a few times. Put the dough into the buttered bowl, cover with a towel, and leave it to rise for about 1 hour, or until it is doubled in size.
Scrape the dough onto a floured work surface. Shape it into a square, then fold it down from the top to the middle and then up from the bottom to the middle (just like you fold a letter). Bring the top and bottom edges together, pinch and seal.
Place the dough in the pan with the seam side down, and press it gently into the corners of the pan. Cover the dough with a towel, and let it rest in a warm place for about 1 hour, or until the dough rises to half again its size.
Preheat the oven to 400°F. Bake for 40 minutes, rotating halfway through. Store in an airtight container for up to 3 days.