My new discovery: Goji berry. It is THE superfood. These berries grow on vines that reach over 20 feet in length in the remote, unpolluted hills and valleys of Tibet and Mongolia. The goji berry is a complete protein loaded with 18 amino acids including all 8 essential amino acids and contain over 20 trace minerals and vitamins. The ones I ordered from Amazon are certified organic, kosher, vegan and raw. Its taste is very similar to that of a date, only slightly more bitter.
You can eat them right out of the bag, add to cereals, smoothies, trail mixes or salads. Heidi likes to chop and add them to oatmeal, power bars and granola. If you have not already, make sure to check out her book "Super Natural Cooking" on your next trip to the bookstore. It is loaded with super-healthy and yummy recipes. The photos are alone worth buying the book.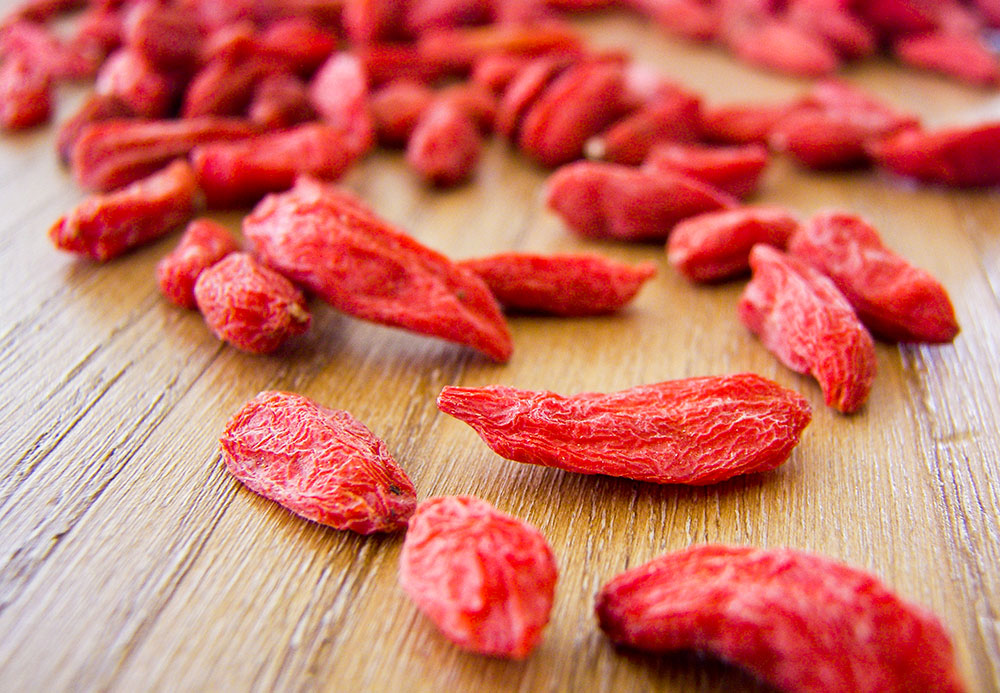 Back to the tart… Chocolate ganache tart has become an addiction for me and my friends. It is very simple to prepare and even a small slice satisfies the strongest chocolate craving instantly. I bake it almost every week.
To spice it up, I experiment with different dough recipes and toppings. This time, I crowned these little tarts with goji berries. The chocolate ganache makes it quite hard to taste the goji berries, but the bright red color of the berries is a great contrast to the velvety dark brown color of the ganache.
CHOCOLATE GANACHE TART with GOJI BERRIES

Ingredients
1+1/4 cups all-purpose flour
1/4 cup cocoa
1/2 cup confectioners' sugar
1/4 tsp salt
1 stick plus 1 tbsp (9 tbsp) unsalted butter, chilled and cubed
1 large egg yolk
12 ounces (330 gr) bittersweet chocolate, chopped
1+1/4 cups heavy cream
1/2 cup Goji berries
Method
Preheat the oven to 375 F (190C) degrees.
Pulse flour, cocoa, sugar and salt in a food processor.
Add butter and pulse until it resembles a coarse meal.Stir in the yolk and pulse again until the dough forms clumps and curds.
Turn the dough out onto a work surface and very lightly and sparingly, knead just to incorporate dry ingredients.
Butter a 9-inch fluted tart pan with a removable bottom. Press the dough evenly over the bottom and up the sides of the pan. Freeze crust at least 30 minutes before baking.
Bake blind for 25 minutes, remove the weight and bake for another 10 minutes. Let cool. (If you are going to use smaller tart pans like I did, adjust baking time accordingly. I baked 6 small tarts for 18 + 8 minutes.)
Place chocolate in a large mixing bowl. In a small saucepan, bring cream to a boil. Pour hot cream, through a sieve, over chocolate. Stir until smooth and creamy in texture. Pour chocolate mixture into center of cooled tart shell (if chocolate is lumpy, pass through a sieve).
Sprinkle Goji berries on top and refrigerate until set, at least 2 hours. Keep refrigerated until serving time.