Today, Cafe Fernando turns four.
I remember the day I decided on a name, bought a hosting plan, found a simple WordPress theme and published my first post, titled "Hello World!" like yesterday. So many great things have happened since then. Things that I couldn't have ever imagined four years ago today.
One day I receive an e-mail from a food writer in San Francisco asking for travel advice, and a couple of months later my mother's karniyarik recipe is on the cover of the food section of a newspaper I've left several coffee stains on back when.
One day I go to sleep, hoping to make it through the night after a heavy (and I mean sickeningly-heavy), late-night snack, and not only wake up still breathing, but also to the nicest e-mail I've ever received – from a personal hero of mine I have to add – giving me the nicest news I've ever heard in a long time.
And recently, something else has happened. Something so amazing and funny that not only did it put a permanent smile on my face, but also affirmed a big decision I've made recently.
A couple of weeks ago, my mother and a few of her friends from high school were on their way to a fish restaurant on the European side.  They missed the ferry and had to hop on a smaller boat, which is a lifesaver, but not as comfortable as there's less space. And that means a 15-minute ride closely pressed together with other passengers.
Just like she does ever since the day I've foolishly let her in on my secret career plan, she takes every living creature on her radar hostage and starts quibbling about my recent decision to become a full-time blogger. Leaving a nice job with a nice salary to pursue a career in blogging is inconceivable for her.
I also have to mention here that some of my mother's friends are my readers. So, there are a few raised eyebrows, but the final blow will come from someone else. And mom has no idea.
As she's going on and on about how hard would it be for me to make a living by writing a blog, especially in Turkey of all places, a beautiful girl sitting right across my mom decides she can't take it anymore. This beautiful young girl, who turns out to be a Cafe Fernando fan, takes her headphones off and starts telling how much she likes to read my posts, how obvious that her son is enjoying what he's doing and says she stands behind my decision to become a full-time blogger.
Can you imagine my mom's face? I wish I was there with my camera.
So yes, as you guessed from this story, I quit my job and decided to become a full-time blogger.
Here's my new office: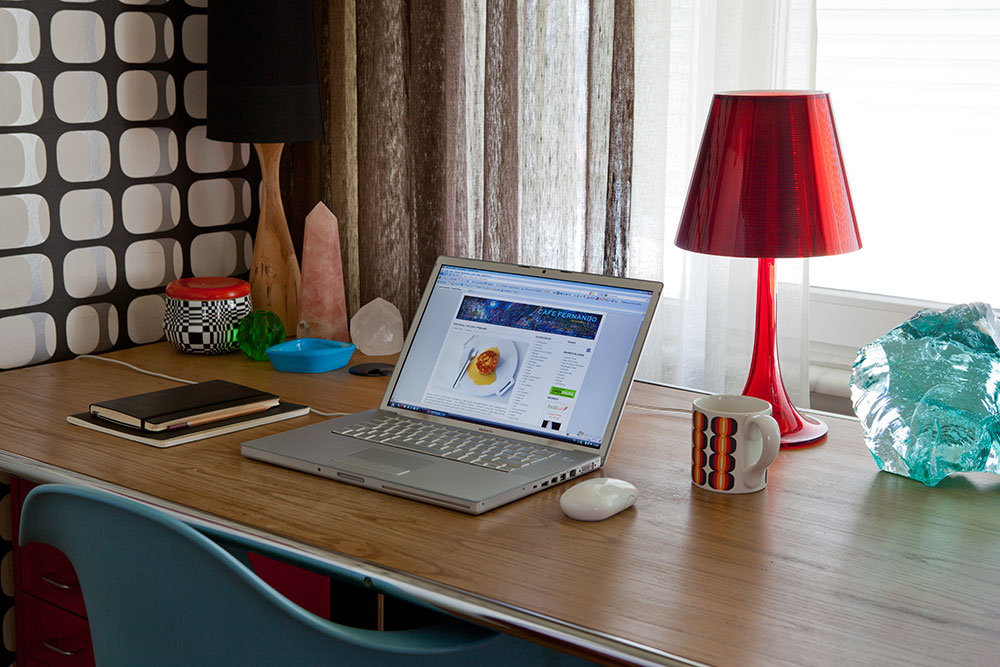 Oh, and I almost forgot the "Pain au Chocolat". The recipe, which is the same with croissants, is here. The only difference is how you cut and roll the dough. Instead of triangles, you cut the dough into rectangles and place a large piece of bittersweet chocolate in the middle.
A huge thank you to those who read my ramblings, tried my recipes, took their precious time to leave comments and followed Cafe Fernando grow up during these four years.
A special thank you to the beautiful girl on the boat who made my mom realize that her son is on the right path. She's seriously thinking about getting a laptop and learning how to surf the net. Don't be surprised if you see a comment from her under my next post.
Cheers!