It's that time of year again. Time to turn the season's juiciest and sweetest tomatoes into a homemade tomato sauce and preserving it for the winter months. It is also time to stock up your freezer with basil pesto sauce. I've managed to freeze ten cups so far. That is in addition to the batches I've gone through by tossing it with pasta, grilled vegetables, spreading it in sandwiches and even on a Margherita pizza I ordered yesterday.
Pesto means "pounded" in Italian as traditionally it is prepared by grinding the ingredients in a marble mortar &  pestle. I might have baked swan-shaped eclairs once, but pounding twenty cups of pesto by hand is beyond my patience, especially during a sticky summer day.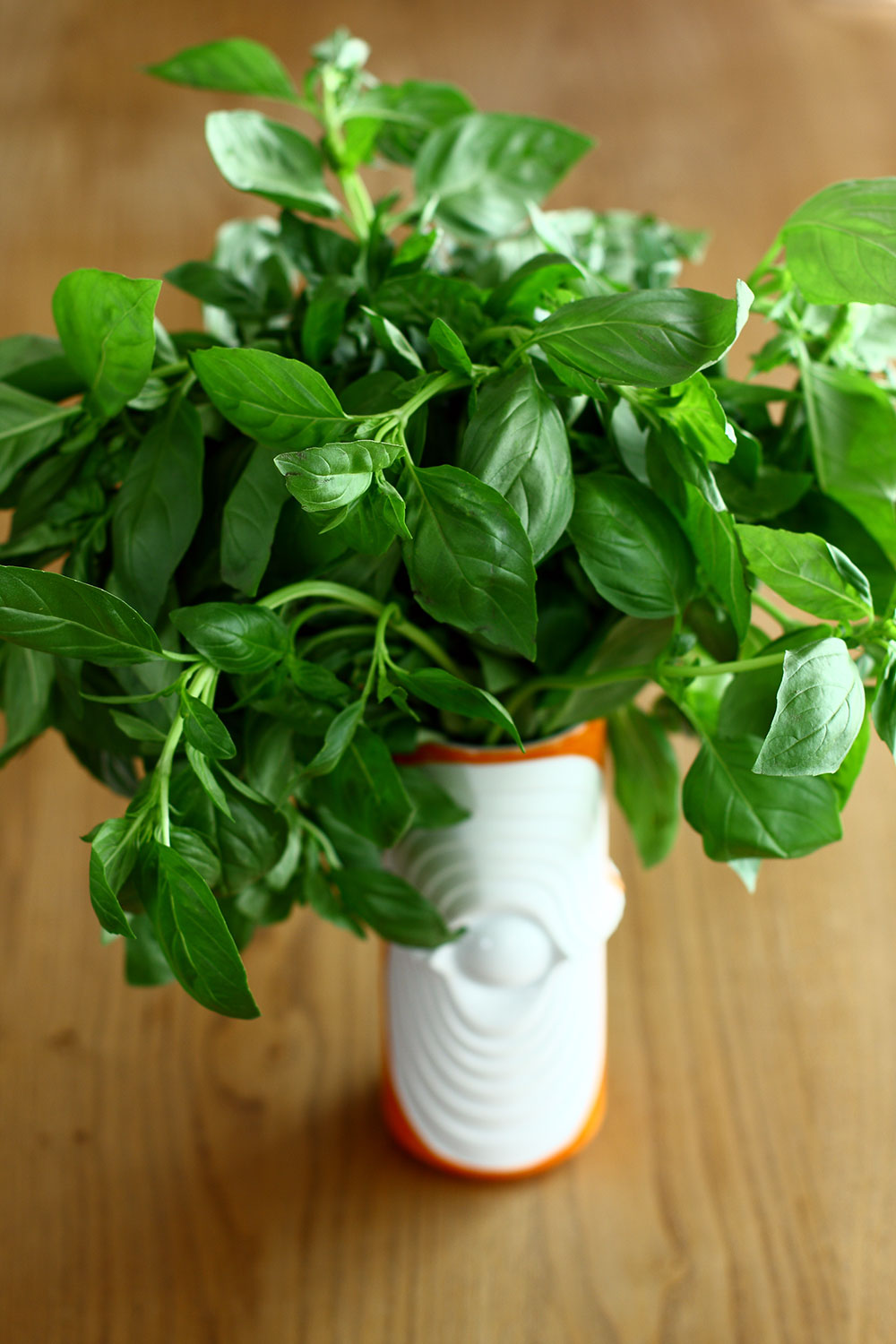 Preparing pesto is quite easy if you're using a food processor like I do. I recommend that you mash the garlic with a fork (or a chef's knife) instead of blending it with the rest of the ingredients. It has to have a smooth consistency in order for it to distribute evenly throughout the pesto. I always add a little bit of salt on top of the crushed garlic cloves. Salt absorbs the juice which would otherwise be lost and creates friction that speeds up the process.
Also, don't skip on toasting the nuts, which brings out the flavor and provides a nice crunch. You can either spread them on a baking sheet and toast them in the oven or on a stove top in a heavy skillet without any oil. Make sure to shake the skillet constantly so that they don't burn.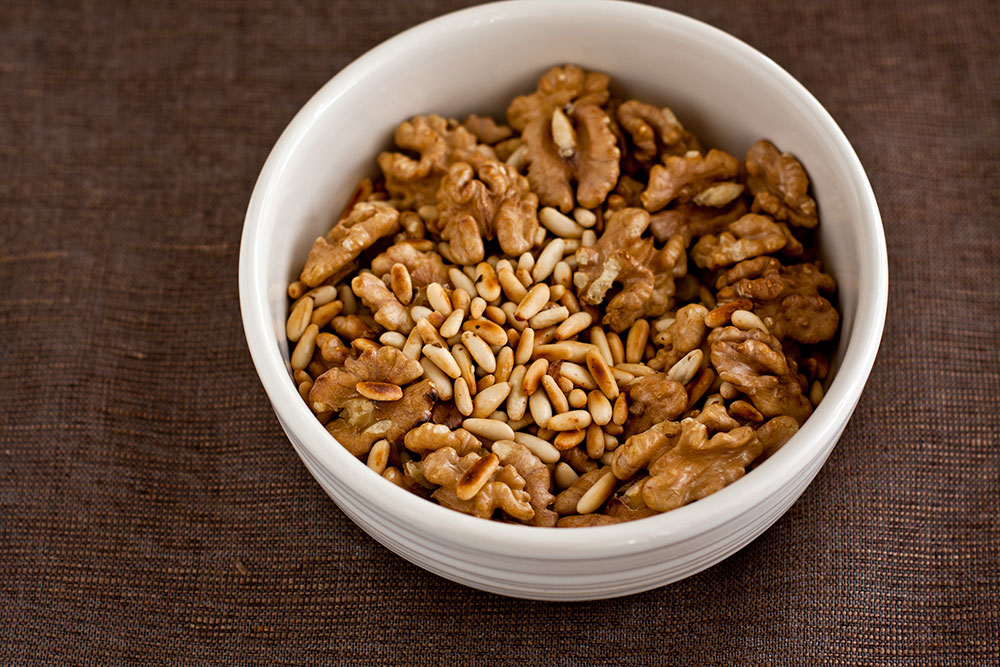 So, what else can you do with pesto? The simplest – and in my opinion one of the tastiest – way to eat pesto is to prepare a Caprese Salad. Instead of fresh basil leaves, I spread pesto between slices of tomatoes and Mozzarella cheese. I recall a commentor in one of the food blogs I follow calling a chopped version of pesto a "heresy." I wonder what she'd call this version of Insalata Caprese. But I've never promised you authentic Italian dishes, right?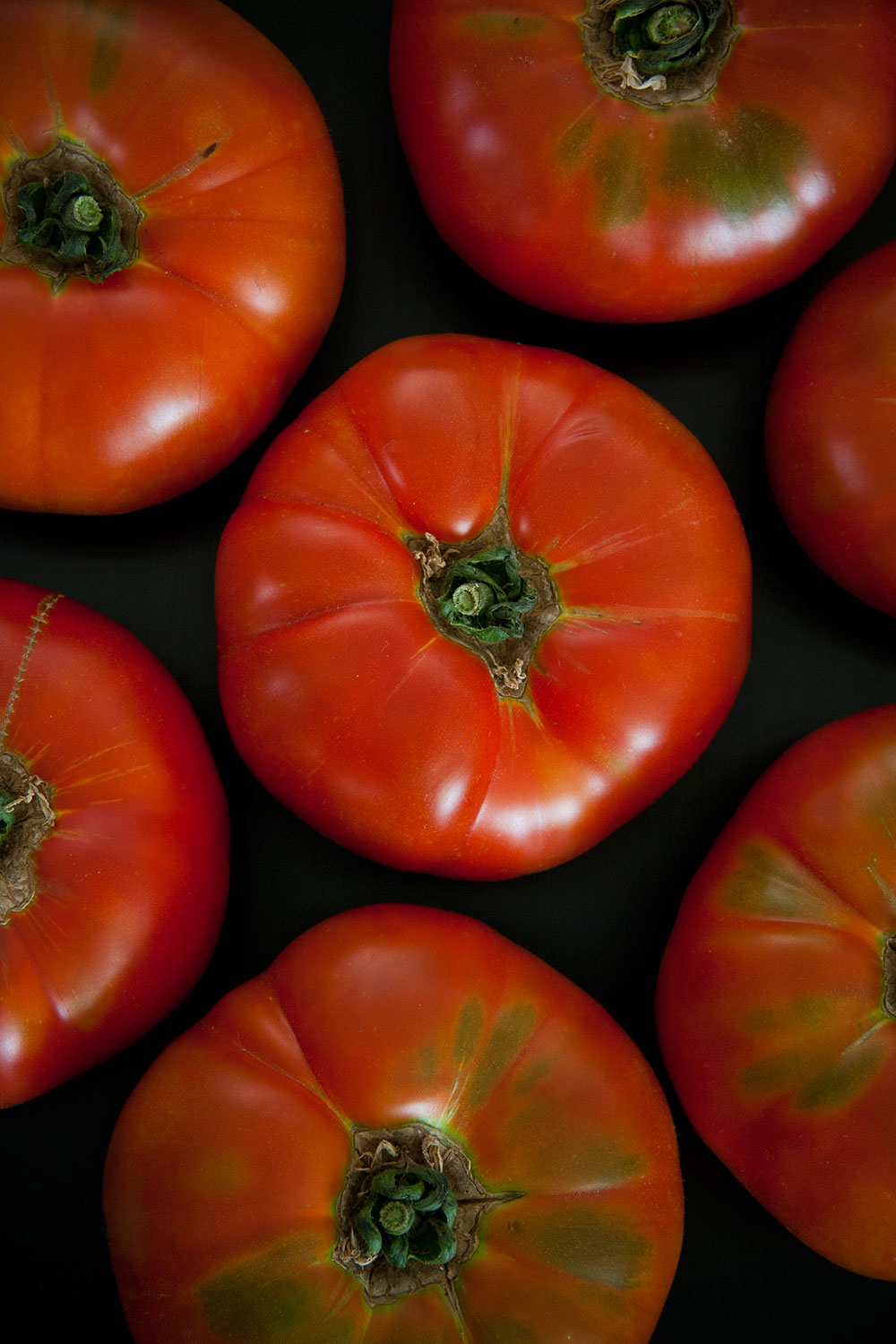 Well, someone does. I would like to introduce you to an amazing new food blog, launched just a few months ago by Rosetta Costantino. She bakes bread in her wood-burning Mugnaini oven on her deck with the starter her mother bought from Calabria in her purse when they moved to California. How great is that? She teamed up with Janet Fletcher to write a book about the region's foods and specialties, which will be published next year. Until then, you can try the recipes in her blog (these zucchini blossoms stuffed with Mozzarella would be a great start) or attend one of her cooking classes and culinary tours.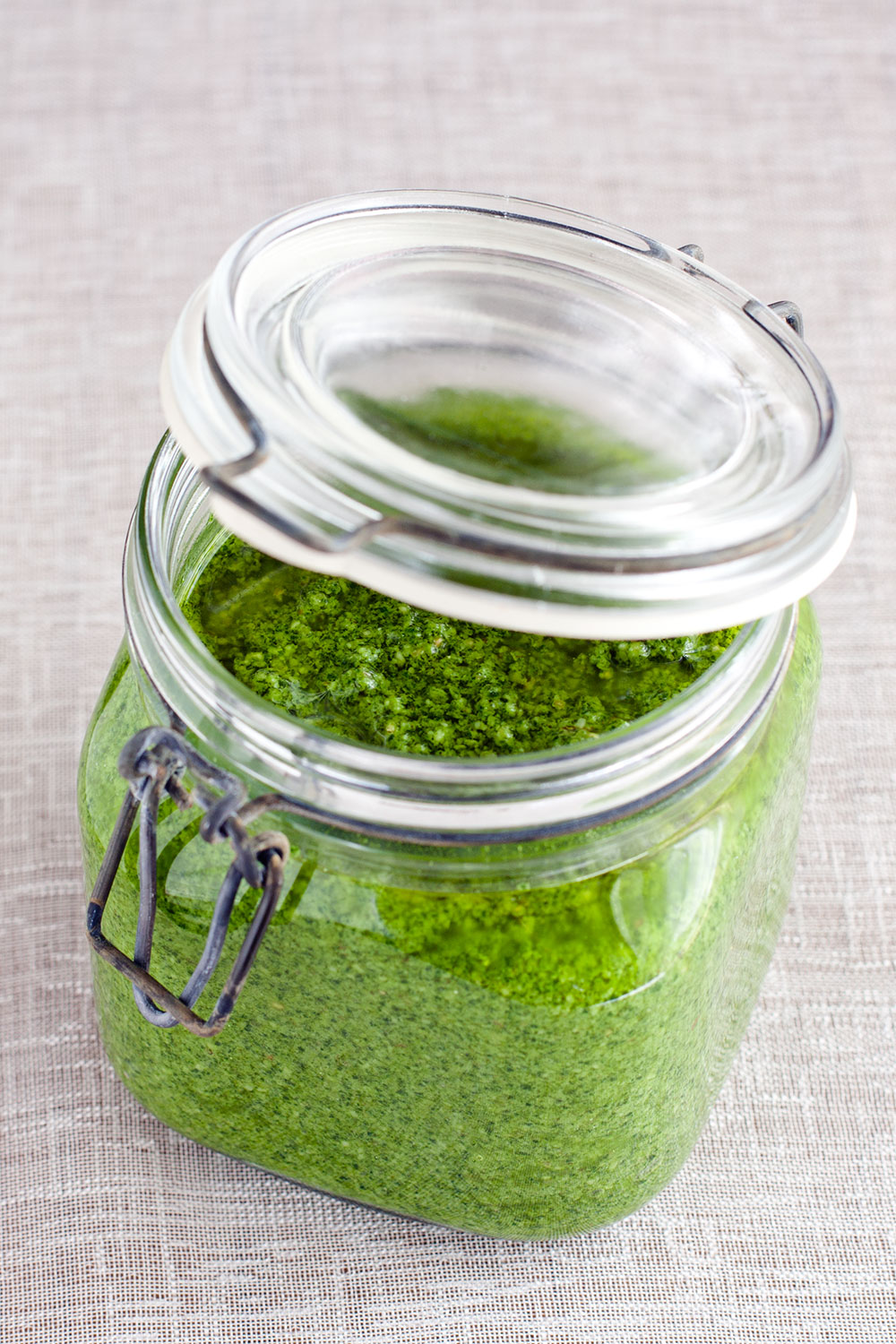 Enjoy!
BASIL PESTO RECIPE
Yields 5 cups of fresh basil pesto
Ingredients
A pound of basil leaves (2.2 pounds with the stems), washed and dried thoroughly
10 oz freshly grated Parmesan cheese
1/2 cup (2.6 oz) pine nuts
1+1/2 cups (5.3 oz) walnut halves
2+1/2 cups extra-virgin olive oil
1 tsp salt
3+1/2 tablespoons chopped garlic (10 cloves)
Method
Heat walnuts and pinenuts in a dry, heavy skillet over medium heat for 5 to 10 minutes or until they're golden brown and give off a rich, toasty fragrance. Stir or toss frequently for even toasting. Remove from pan to cool.
Chop the garlic cloves finely, sprinkle a teaspoon of salt on top and mash to a fine paste with a fork.
Place garlic and half of the basil leaves in the bowl of a food processor fitted with a steel blade. Process for 15 seconds.
Add the rest of the basil leaves and with the processor running, slowly pour the olive oil through the feed tube and process until the pesto is thoroughly pureed.
Add the Parmesan cheese and toasted nuts and puree for one more minute.
You can use it the right away. If you're going to store pesto for a short period of time, place in a jar with a thin film of olive oil on top. You can also divide it into 1-cup portions and store in the freezer for a few months. Make sure to defrost in the refrigerator overnight.