I am known to eat a whole pot of pasta in one sitting (and a jar of Nutella if I feel festive, but that is not our topic today). What's more unfortunate is once I made a fatal mistake of telling this to my mother.
Ever since that day, her first question on the phone is "What did you eat tonight?" – her voice fading close to the end of the sentence. I guess she is still scared to hear the answer… She has every right to. And let me tell you – this is not the first incident. Back in my high school days, on my way home from school, I would get off the school bus and pay a visit to the supermarket to buy a quart of chocolate ice cream every single day. I would sneak it to my room in my backpack and the whole thing would be gone before dinner. The next morning, the empty box would be hidden in my backpack on my way to school. On that traumatic day when my mom opened the bottom cabinet in my bedroom, the empty boxes that poured out in front of her were only the ones I forgot to sneak out…
Obviously, a long time has passed and I somehow got smarter acquired a more sensible diet. Do I eat a whole pot of pasta now and then? Sure! A jar of Nutella under an hour? Pfff! But do I tell mom about it? Hell, no!
What I'm trying to say is, I love pasta. But not so much the whole wheat version. So in order not to eat the whole pot, I am experimenting with the whole wheat version combined with lighter sauce alternatives. This past week, I came across a whole wheat pasta recipe that won me over.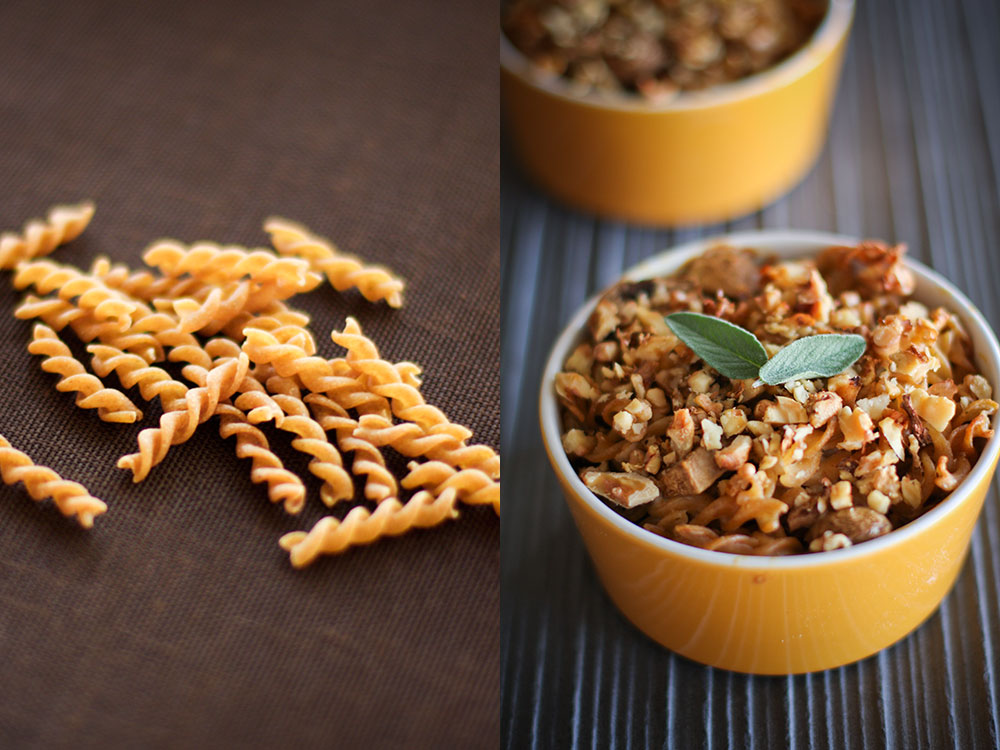 And I almost ate the whole pot. I guess old habits die hard.
PASTA GRATINS with GOAT CHEESE, SAGE and MUSHROOMS
Recipe adapted from Martha Stewart Living February 2007
2-4 servings
Ingredients
9 oz whole wheat fusilli pasta
1+1/2 cups whole milk
2 tbsp whole wheat flour
1 tbsp finely chopped fresh sage, plus 8 small leaves for garnish
1 tsp salt
1 tsp olive oil
1/4 tsp black pepper
3 oz goat cheese
14 oz white mushrooms, thinly sliced
1/2 cup chopped walnuts
Method
Preheat your oven to 375.
Bring a large pot of water to a boil. Add pasta; cook according to package instructions until al dente. Drain and set aside.
Whisk milk, flour, chopped sage, salt and pepper in a medium saucepan. Bring to a boil, whisking often. Add cheese and cook, whisking constantly, until thick enough that whisk leaves a trail, about 2 minutes more. Remove from heat and set aside.
Lightly coat four 10-ounce gratin dishes with olive oil. Set on a rimmed baking sheet and set aside.
Toss mushrooms, pasta and cheese mixture in a large bowl. Divide among prepared dishes. Sprinkle chopped walnuts over each dish, cover with foil and bake for 25 minutes.
Garnish each gratin with two sage leaves.