With summer fruit at its best, there has never been a better time to bake all kinds of stone fruit encased in a buttery flaky dough. Although you can prepare a galette with any fruit you'd like, I highly recommend one of my favorite combinations: Apricot and cherry. Aside from the great color combination, they let out just the right amount of water, which means they need less cornstarch (or flour) to thicken. So, their natural, intense flavors shine through even more.
Even though they are naturally supersweet at this time of the year, a liberal sprinkle of sugar on top of both the dough and the fruit introduces a lovely crunch.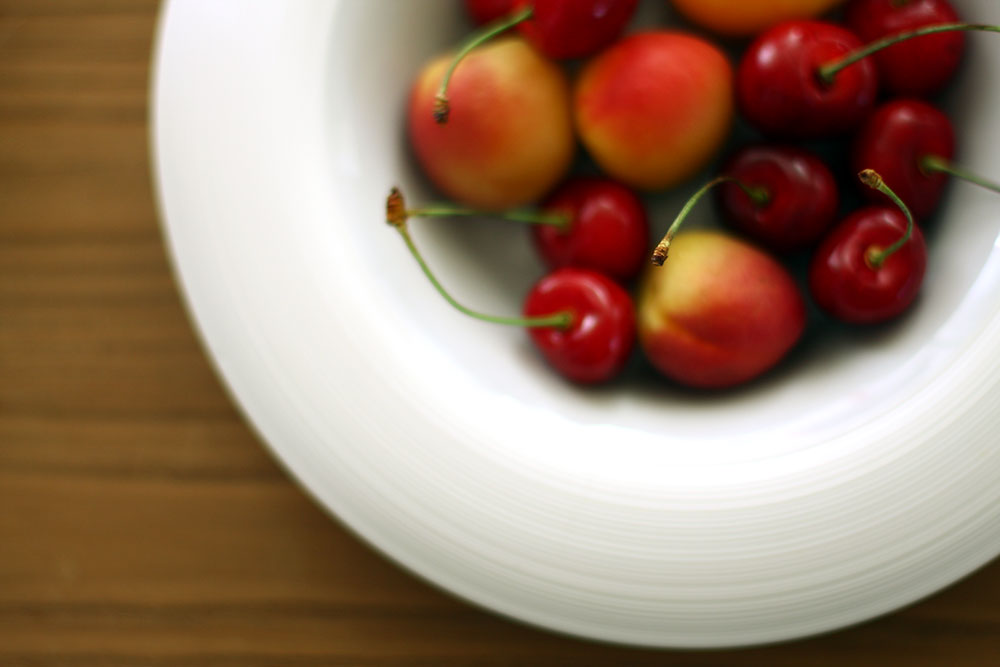 I find Dorie Greenspan's Good For Almost Everything Pie Dough recipe (from "Baking: From My Home to Yours") perfect for summer galettes. Not just because of the brilliant name of the recipe, but also the amazing consistency, which is a lifesaver during hot summer days. It is easy to roll, full of flavor and turns out extremely flaky. I adapted the recipe slightly to make it sweeter.
Of course, a summer galette feels lonely without a scoop of ice cream. I like to serve it warm with a sprig of mint and a generous scoop of vanilla ice cream. Below recipe is for a double crust. I didn't even halve the recipe. This galette is so good, you'll be rolling out the second dough by the time you're finished with your second slice.
And even if not, the dough will keep in the refrigerator for a couple of days (longer in the freezer) so you're ready to pop it into the oven with whatever fruit you have on hand. I made a red plum and peach version this weekend, and it was a hit! You may need to adjust the amount of cornstarch depending upon the juiciness of the fruit (use more for peaches for instance).
Another trick for a flaky dough is to sprinkle some of the sugar cornstarch mixture on the bottom of the galette before you lay the fruit. While the fruit bakes, this mixture will hold their juices and the result is an oh-so-flaky crust.
APRICOT AND CHERRY GALETTE
Adapted from Dorie Greenspan's "Baking: From My Home to Yours"
Ingredients
For two 9-inch galettes (you only need one for the recipe):

3 cups all-purpose flour
1/3 cup granulated sugar
1 1/2 tsp salt
3 sticks of butter, cold
1/2 cup ice water
Filling:
3/4 pound fresh apricots, pitted and quartered
1/2 pound fresh cherries, pitted
2 tbsp cornstarch
1/4 cup sugar + more for sprinkling
Juice of half a lemon
Other:
1 egg, slightly beaten
Vanilla ice cream and a sprig of mint, for serving
Method
Pulse flour, sugar and salt in a food processor.
Cut butter into small pieces and place in the freezer for 15 minutes.
Add butter and pulse until it resembles a coarse meal.
Gradually add ice water and pulse until the dough forms clumps and curds.
Turn the dough out onto a work surface and very lightly and sparingly, knead just to incorporate dry ingredients.
Divide the dough into two even balls. Flatten balls into circles; wrap individually in plastic.
Refrigerate dough for at least an hour.
Remove one piece of dough from refrigerator; place on floured work surface. Using a rolling pin, roll out the dough into a rough 11-inch circle. Trim the edges to a clean circle with a pairing knife. Transfer the circle to a baking sheet or pizza pan lined with parchment paper.
Preheat your oven to 400 F.
Mix 1/2 tbsp cornstarch and 2 tbsp of sugar in a bowl and spread on the bottom of the dough.
Toss apricots and cherries with the rest of the cornstarch and sugar and lemon juice.
Arrange the fruit on the bottom of the dough, leaving 2 inches of dough left outside.
Fold up and pleat the dough over the top of the fruit, leaving the center uncovered.
Lightly brush the top of the pastry with the beaten egg and sprinkle both the dough and the fruit with sugar (1/3 cup should do it).
Place the galette in oven and cook for 40-45 minutes until golden brown and bubbly.
Remove from oven and transfer to a cooling rack immediately.
Serve warm or at room temperature with a scoop of vanilla ice cream.