I guess I am a bit late about this roasted tomato soup recipe as the season is over, but better late than never (or next year), right?
This roasted tomato soup with goat's cheese crostini recipe belongs to Gordon Ramsay and was published in his column at Times Online. It has great depth, thanks to roasting the tomatoes with red onions, sea salt, olive oil, fresh thyme and a bit of sugar in the oven. Since this is a pretty straight forward recipe with few ingredients, it all comes down to how good your tomatoes are.
I live in Turkey and can only offer advice on where to find the best tomatoes here.  And you may think – just like I did a while back – that this information isn't all that important since most of you won't be purchasing tomatoes in Turkey anytime soon. I used to think that the readers of my English blog lived abroad, and I would have still thought the same had I not been informed that the Professional American Women of Istanbul (PAWI) is following Cafe Fernando! They're even sharing my recipes in their newsletters. So things like "where to find the best tomatoes" or "how to choose the right cream cheese for a cheesecake" all become vital information.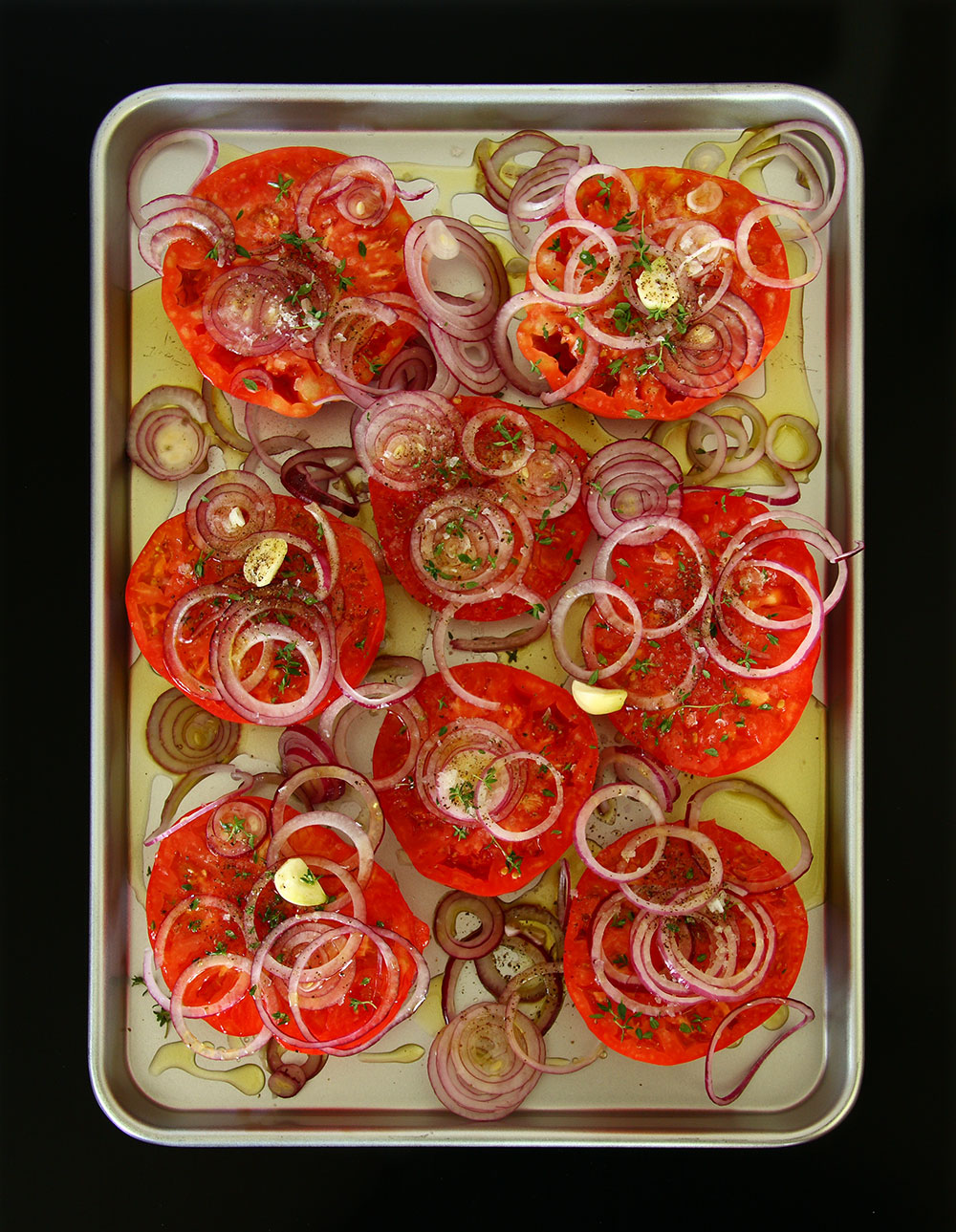 You already know the answer to the second question.
And here's the answer to the first one: The chances of finding a great tomato in Istanbul (even in season) are very slim. That is unless you're my father's son.
And since most of you aren't, stop looking and try Ms. Pınar's tomatoes. In 1996, she got tired of the big city, retired and moved to her parents' farm in Aydın, a city in Turkey's Aegean region best known for its figs. She started to grow her own produce to feed her daughter, but it soon became a small business for her. Her produce is all organic and especially her tomatoes are out of this world.
Who has the luxury of preparing a soup with Heirloom pink tomatoes? Thanks to her, I do. You can send her an e-mail (she speaks English) to be included in her mailing list. She sends out a list (in Excel) every Sunday night and accepts orders throughout the week. The produce is delivered to your door (only within Turkey) two days after your order (paid by the receiver). She also has two stores in İstanbul, one in Balmumcu (European side) and the other one in Fenerbahçe (Asian side).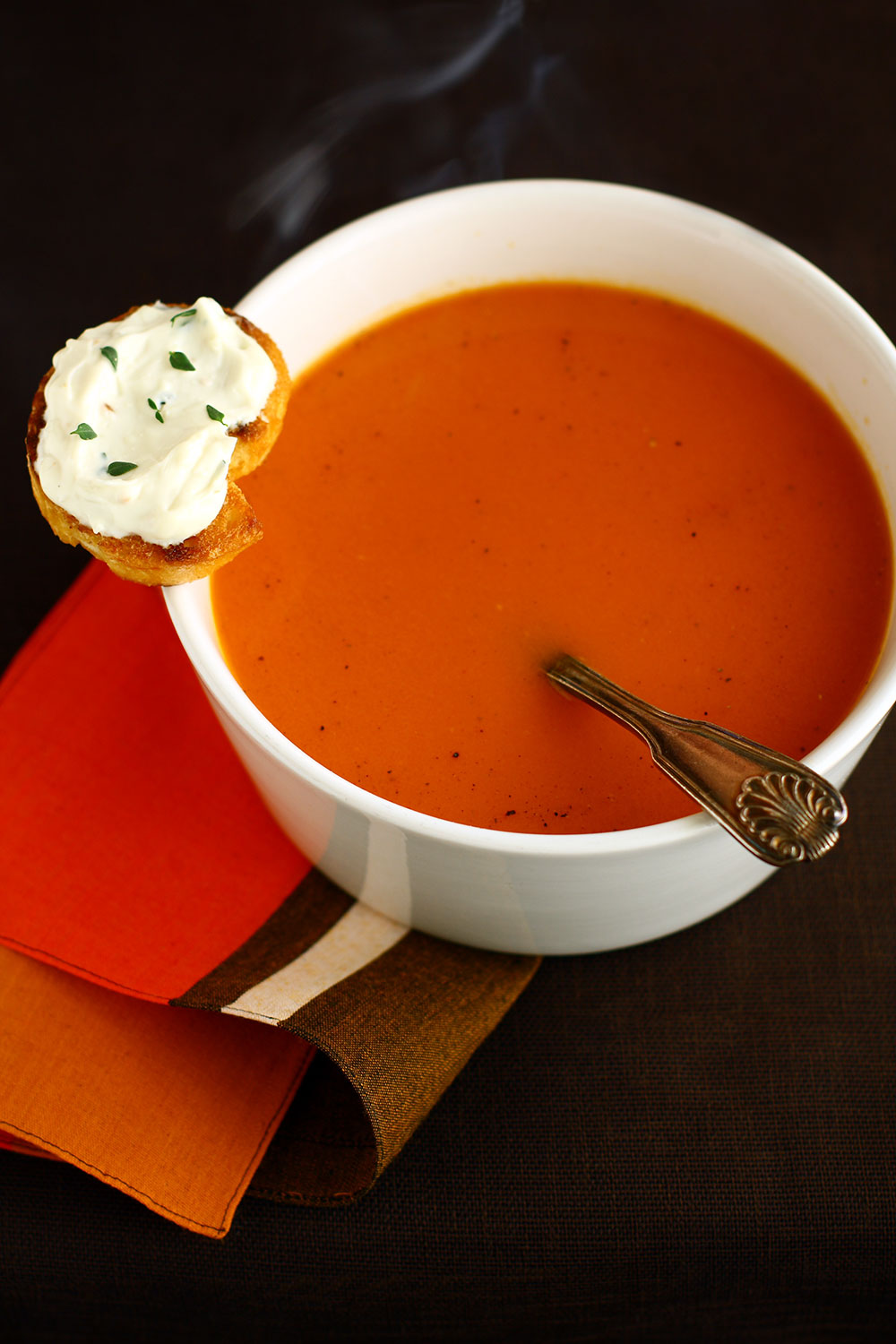 Happy cooking. Enjoy!
ROASTED TOMATO SOUP RECIPE
Recipe adapted from Gordon Ramsay's Times article.

Ingredients
Serves 6

For the soup:
3.5 pounds tomatoes, halved
2 red onions, peeled and 
thinly sliced
3 garlic cloves, peeled 
and halved
10-15 sprigs of fresh thyme, leaves picked
4 tbsp olive oil
1 tbsp sugar
Sea salt and freshly ground black pepper
3 cups chicken or vegetable stock
For the goat's cheese crostini:
12 slices of baguette
2 tbsp olive oil, for brushing
3.5 oz goat's cheese
1 tbsp water
2-3 sprigs of fresh thyme, leaves picked
Method
Preheat your oven to 425 F.
Halve the tomatoes and place them in a roasting pan, cut sides up.
Slice the onions thinly and scatter them on top of the tomatoes together with the thyme leaves.
Pour the olive oil on top of the tomatoes, sprinkle over 
 the caster sugar and season generously with salt and pepper.
Place the pan in the oven 
and roast for 20-25 minutes, 
until the tomatoes are soft 
and slightly caramelized.
Place the roasted tomatoes and juices in a saucepan. Bring the stock to the boil in a separate pan and then pour over the tomatoes. Simmer for 
5 minutes. Remove the pan from the heat and strain through a sieve, reserving the stock.
Place the tomatoes into a blender or food processor and blend, gradually adding the stock back in, until the soup is smooth and creamy.  If you wish, you can pass the soup through a sieve again 
and back into a clean saucepan. Taste the soup and adjust the seasoning if necessary. Set aside and reheat when needed.
To prepare the goat's cheese crostini, brush the bread slices with the olive oil. Grill on both sides until lightly toasted. Mix the goat's cheese, water and thyme leaves together in a small pot and heat until creamy. Take off heat and spread over one side of each slice of bread. Sprinkle a few more thyme leaves and serve with the soup.